CREDIT FOR REAL ESTATE: HOW MUCH IS ENOUGH??

Speaking at the recent "Real Estate Forum 2018: Opportunities from Policies", Mr. Luc confirmed that the system of mechanisms, policies, markets on taxes, fees, capital sources, financial products, etc. are necessary factors for the real estate market to develop healthly.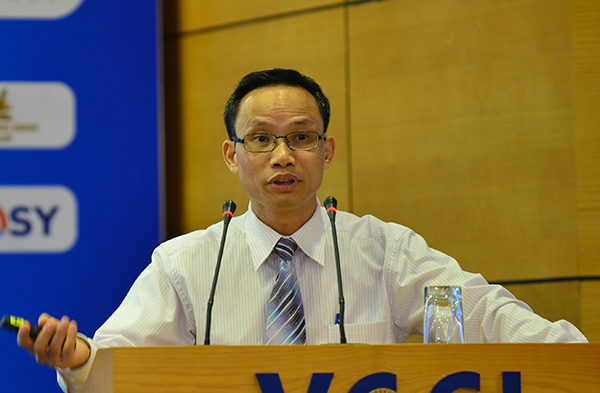 Mr Can Van Luc in "Real Estate Forum 2018"
An important solution
According to Mr. Can Van Luc, in Vietnam, housing finance has been mentioned relatively early in the Decision No. 105/2007/QD-TTg approving national housing finance policy orientations up to 2020. Accordingly, capital sources for real estate are limited in the main sources including: State capital, foreign capital, guaranteed credit capital and private capital (equity capital, contributed capital)…
With regard to the State budget capital, currently, there are 2,000 billion VND including 800 billion VND to be provided to people with meritorious services and 1.2 trillion VND for social housing development. In 2018, the Government plans to disburse 1 trillion VND to the affordable housing loan program for low-income people, including 500 billion VND granted by the state and 500 billion VND self-financed by Vietnam Bank for Social Policies.
"Such capital is pretty tight since only a number of large projects may use up the same. Therefore, guaranteed credit capital is considered as one of the important solutions", Mr. Luc said.
Meanwhile, according to the State Bank, the total outstanding loan balance for real estate investment and business of Vietnam until 31 December 2017 is about 471,000 billion VND (accounting for about 7.2% of total outstanding loan balance), increasing by 8.3% over the beginning of the year. Accordingly, outstanding credit balance for real estate and construction business accounts for about 15.8% of total outstanding loan balance (according to the National Financial Supervisory Commission).
In addition, consumer credit in 2017 reaches about 1.1 million billion VND (accounting for 17% of total outstanding loan balance), including outstanding loan balance for repair, purchase and renting of houses accounting for about 8% of total outstanding loan balance (according to the report of the National Financial Supervisory Commission, this proportion is about 50%).
In addition, foreign capital source including direct capital source with about 12 funds and indirect capital source should also be mentioned. According to the General Statistics Office, in the first four months of 2018, registered FDI reaches $807.5 million in the real estate sector, accounting for 10% of total registered FDI. In 2017, registered FDI reaches $3.05 billion in this sector.
In addition, Mr. Luc said: "Currently, there are about 4-5 policies affecting the real estate market such as the Resolution No. 08-NQ/TW dated 16 January 2017 on development of tourism as a spearhead economic sector or the Directive No. 03/CT-TTg dated 25 January 2017 on promotion of social housing development, and there is a great opportunity that is the deep and widespread international integration in the period 2018-2020, specifically the prospects of VN-EU FTA, CPTPP, etc., which will be the factors increasing the demand for real estate".
From the above figures, it can be seen that real estate is a special sector attracting both domestic and foreign investors. Along with the high profitability, policy factor also contributes to increasing the attraction for real estate business.
A common housing savings fund is necessary
However, in addition to the prospects, Mr. Luc pointed out one of the shortcomings in real estate finance which is the housing savings fund failed to develop mainly due to lack of capital, mechanism, methods, etc., which are not suitable for the market.
In addition, the Financial Institutions System is not diversified. Particularly, it lacks or has not yet developed financial institutions such as Real Estate Investment Trust – REIT, housing mortgage lending agency, etc., which are the barriers preventing the development of housing finance market. Therefore, "it is necessary to have a common housing savings fund as successful as that of Thailand and Singapore," Mr. Luc suggested.
Furthermore, Mr. Can Van Luc pointed out that it is necessary to develop capital market to create medium- and long-term capital and balance the financial market structure, create seed capital in housing savings funds, social housing programs, and at the same time, strengthen the role of the Industry Association.
"Particularly, attention should be paid to attract FDI into the target real estate sectors such as critical infrastructure and transport infrastructure, and effectively implement the Decree on PPP investment form", Mr. Luc emphasized.
– Business Forum Newspaper –