REAL ESTATE ENTERPRISES ACHIEVE SELF-FINANCING – HOW?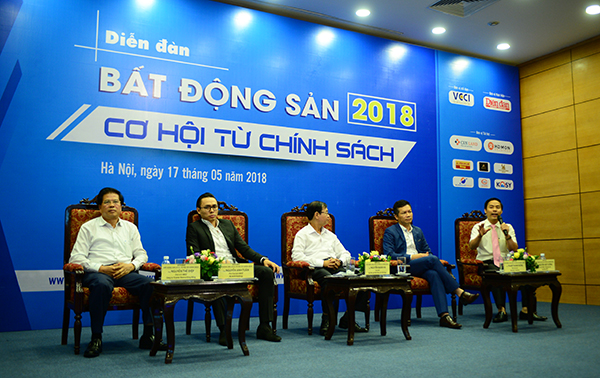 Vietnam's real estate market is showing signs of potential development from the prosperity of the economy. Faster rate of urbanization (about 3.4% per year) and the young population are putting significant pressure on the real estate market, as the demands for urban housing and for increasing housing area per capita are increasing (currently 22.8m2/person in our country, lower than the world standard of 25m2/person).
In reality, there are a lot of real estate projects which are being implemented and will be implemented, and there are also multiple of enterprises investing in this field. However, not all enterprises have sufficient financial capacity to proactively successfully implement the projects without encountering problems of capital mobilization.
Real estate is a field of great demand for capital; however, many statistical reports show that there is up to 70% of investment capital in this field coming from bank loans (while the percentage is about 35% in other countries). And the total outstanding real estate loans in the last 2017 was 450,000 billion dong, accounting for 6.53% of outstanding loans to the economy.
This story is exposing the reality of our capital market which still has many limitations, creates capital structure which is inadequate and potentially risky, especially when the government introduces policies to limit the flow of money into real estate as currently.
The promulgation of the circulars No. 06/2016/TT-NHNN dated 27 May 2016, No. 19/2017/TT-NHNN dated 28 December 2017, or the Official Letter No. 563/NHNN-TTGSNH prescribing investment credit limit in real estate, is the tightening of the State Bank, which has created a great challenge but also an opportunity for enterprises to gradually reduce their dependence on banks and seek self-financing, ensuring the stable development of the enterprises and contributing to the more sustainable development of the real estate market.
So how can enterprises achieve self-financing?
First, enterprises should focus on the group of proactive solutions and self-create their comparative advantages such as:
Building and developing business values, building trust in partners, customers and staffs by prestige and serious, honest attitude. This is the most different competitive strength, helping enterprises improve their prestige and maintain their position.
Choosing the market segment in line with enterprises' strategies and strengths. For example, instead of pursuing high-end segments that are overwhelmed by supply and fiercely competing with foreign enterprises, enterprises can seek profits in mid-end segments that meet the real demand and are encouraged and favored by the government
Selecting nice projects situated in favorable locations, suitable, easy to liquid: Enterprises need to promote investment research and market survey, etc. before deciding to invest in project implementation.
Professionalizing the sales and creating cash flow: Methodically planning business and communication strategies with attractive policies stimulating customers aimed at achieving good liquidity, minimizing inventory and recovering capital quickly.
In addition to the above factors, enterprises may improve their capital capacity in the following ways:
Increasing charter capital to increase the scale and potential development in the future. In fact, most real estate enterprises have increased their charter capitals, for example, FLC Group increased from 3,150 billion dong in 2014 to 8,400 billion dong in 2015, Dat Xanh increased from 1,062 billion dong in 2015 to over 3,000 billion dong in 2017, KOSY increased to 1,000 billion dong in 2018 and plans to increase to 2,000 billion dong in 2019, etc.
Mobilizing advance capitals from customers: This is an important and popular source which is only ranked behind the source from banks for real estate enterprises. However, to attract this source of capital, enterprises need to build trust and prestige with customers, give top priority to the interests of customers, commit on the progress and quality of the projects, and attach great importance to after-sales activities.
Issuing bonds: While the capital market in Vietnam still has many limitations, the overseas capital market is plentiful, vibrant and reasonably priced. This is a good opportunity for Vietnamese qualified enterprises to proactively issue bonds overseas to mobilize investment capitals. In 2012, Vingroup issued and listed $300 million of global convertible bonds in Singapore. Novaland Group also successfully mobilized $160 million from the issue of global convertible bonds.
Mobilizing capital on the stock market: this is a very important capital flow channel for the economy, especially for real estate enterprises. Currently, the market capitalization is over 70% of GDP, exceeding the target until 2020. In 2016, CEO Group successfully issued 51 million shares, creating momentum to increase charter capital from 1,029 billion dong to 1,544 billion dong. Nam Long JSC also announced to issue 31 million shares with the expectation of mobilizing more than 566 billion dong, and many other enterprises with the same direction as Kosy JSC are also planning to issue more than 60 million shares and expect to mobilize over 600 billion dong to concentrate capitals to start some new projects..
Engaging in cooperation, joint venture, association, transfer: This solution helps enterprises take advantage of the parties' strengths, attract more capitals while learning the real estate development experience as well as management experience from the advanced countries, etc. There are a number of successful big deals with foreign partners such as the deals of Sun Group, BGR, Novaland, Phat Dat, Nam Long, etc. with partners mainly from Singapore, Japan, Korea, Hong Kong, etc.
In fact, in order to mobilize capital effectively, enterprises must also equip themselves with different advantages in terms of long-term strategic objectives, human resources as well as establishment of separate mechanisms for investors.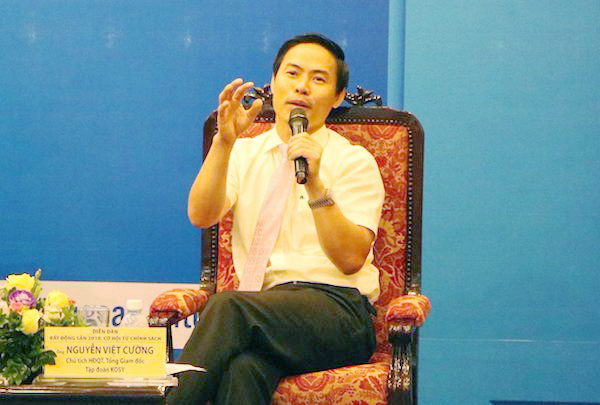 In addition to the proactiveness of enterprises to find solutions to overcome difficulties, it is also proposed that the government should do research to promulgate more suitable policies to promote and help enterprises improve their capital capacity for development as follows:
Adjusting the deadline for payment of land use fees for projects: According to the Decree No. 45/ND/2014-CP by the Government stipulating the collection of land use fees for projects, enterprises have to pay the whole amount in the first phase of the project. However, in reality, at that time, most of the projects have just started to be implemented without any revenue, while there are many large expenses to compensate for ground clearance, leveling, construction, etc. Therefore, it is proposed that the state authorities amend this regulation. It can be divided into several durations during the implementation period of the projects or the life cycle of the projects, facilitating the self-financing of enterprises.
Promulgating mechanisms and policies for development of capital market, perfecting the mechanisms for development of financial market and housing in order to provide stable medium- and long-term capitals for the real estate market. Establishing real estate investment trusts to receive investment capitals on the stock market, thereby investing in real estate, etc.
Regulation on advance capital mobilization from customers: According to the promulgated regulation, the land projects will be eligible to mobilize advance capitals from customers when the investors complete the construction of basic infrastructure. This makes enterprises hesitate when considering capital capacities in difficult market conditions. Therefore, it is suggested that the state authorities do research and consider loosening this regulation, allowing enterprises to mobilize advance capitals of customers sooner, and at the same time set out the regulations and necessary binding conditions to control the operations of enterprises, ensure the use of advance capitals for the right purposes and commitments, and protect the interests of customers.
– Source: Summary record of Vietnam Real Estate Forum 2018 –