"Captain" of Kosy Group: Behind success is an iron belief

A multi-industry group, in which real estate and renewable energy are the two main business lines. In the field of real estate, the group is implementing many urban projects serving the average segment in many provinces in the North, Central and South of Vietnam. In the energy sector, the group is implementing a number of hydropower, wind and solar power projects in some localities.
For Dr. Nguyen Viet Cuong – Chairman of Kosy Group, the day Kosy turns 12, is also a milestone that he will take on more responsibilities but also become more confident in the journey to bring Kosy to a great stature. new.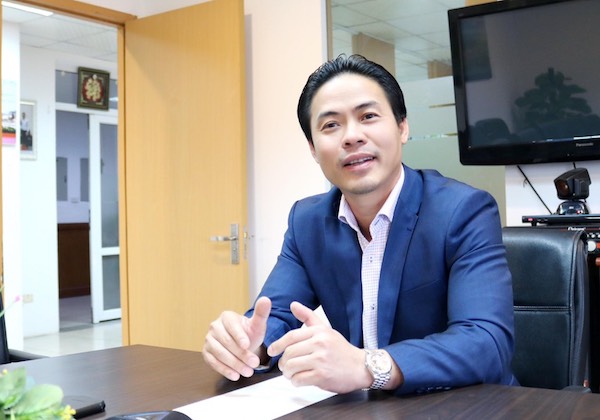 Dr. Nguyen Viet Cuong – Chairman of the Board of Directors of Kosy Group.
Reporter: Hello, I would like to congratulate Kosy Group on its 12th anniversary, how do you rate Kosy's 12 years of establishment and development?
After 12 years of establishment and development, going up from a very small business up to now, Kosy has achieved a certain scale including many member units, multi-industry activities, in which real estate and renewable energy are two main business fields, creating jobs for thousands of workers, making significant contributions to the state budget. The Group also has a wide network of activities such as Hanoi, Ho Chi Minh City, Northern, Central and Southern provinces.. The Group has also built a working apparatus consisting of a team of qualified, experienced and enthusiastic staff. It can be compared to building a large house, Kosy has now completed a relatively solid foundation and will build high floors in the coming years.
Reporter: What excites you the most?
Kosy Group has steadfastly followed the chosen goals and strategies and has now reached a certain scale, a business that is evaluated with a lot of growth potential ahead, while focusing on The group is not under too much pressure on cash flow, on borrowing and paying, on promoting the brand and image.
Reporter: Over 12 years of establishment and development, he certainly had to go through difficult times with his business, what can he say about this and what are the reasons why he led Kosy through okay it?
In the process of development, myself and Kosy also had times of falling, difficult times. And it's not just me and Kosy, most other entrepreneurs and enterprises are the same. If you fall, you will be successful, but the important thing is whether you can get up after falling and when you encounter difficulties, you can overcome it.
For myself, the failures and failures will make me stronger, more brave, and have a higher will. I am grateful for those difficulties, because going through them makes me more complete and successful.
Every business faces different challenges and has different ways of overcoming them. For me, to overcome difficulties, I must have faith, and faith here is believing that I will overcome it, believing that the business will overcome difficulties. In order to have that belief, to strengthen that belief, we must come up with specific, clear and feasible strategies, plans and solutions that, when applied, will help us. Your business is going through tough times. A well-founded, well-founded belief, not blind, unfounded belief.
Reporter: If you can't come up with those possible solutions, how do you do it?
In fact, not all difficulties can be given specific plans and solutions to overcome. When I can't get those things, sometimes I rely on my own destiny as a basis, a belief, believe in that and from there confidently find the right solutions, slowly remove and solve the problem. overcome difficulties.
You will have to find a support to confidently find solutions, and that support is faith, a belief that you can do it. That is the support, the most solid lever for myself to overcome all difficulties and challenges.
Besides, even though I've tried my best, I'll gladly accept the results no matter what, because it's fate, it's very difficult to change, I have to accept that. In life, or in business, I am also aware of how enough is enough. Business is competition, the marketplace is a battlefield, but I understand that what doesn't belong to me is also gently ignored, because even if I want to, I can't, and by all means get it, I also have to pay the price. is different.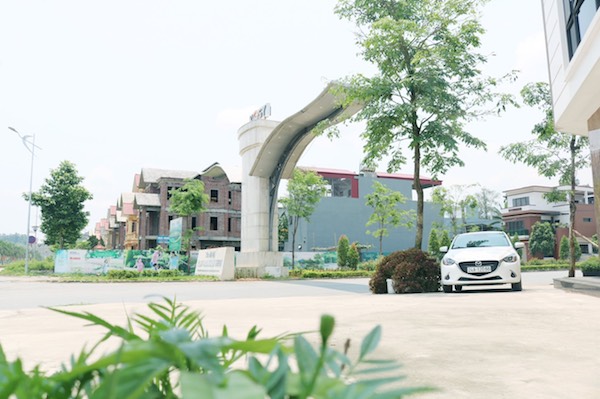 Project Kosy Mountain View Lao Cai.
Reporter: What are Kosy's goals and strategies in the near future? And what are your expectations for the development of Kosy in the next 5 and 10 years?
We want to make Kosy a big business in Vietnam, doing multi-industry business, based on two main fields of real estate and renewable energy.
In the field of real estate, the group is currently implementing 5 projects in some provinces with a total investment of thousands of billions of dong and this year we will complete all 5 of these projects. Also this year, the group continues to start construction and implement a number of new real estate projects in Ninh Binh, Ha Nam, Thai Nguyen… Besides, it is also speeding up investment preparation and completing legal documents of many projects in Hanoi, northern, central and southern provinces with the goal of starting a number of new projects each year.
In the field of energy, the group is currently implementing the Nam Pac Hydropower project with a capacity of 34MW, total investment of 1,100 billion in Lai Chau, with the goal of generating electricity by the end of this year, connecting to the national power grid and between this year the group continues to start a new hydropower project in Lai Chau, with a capacity of 35 MW, with a total investment of 1,200 billion dong and a wind power project with a large investment in Bac Lieu province. In addition, the Group is also completing the legalization of many energy projects and will start and deploy in the following years, with the goal of having from 500 MW to 800 MW of hydropower, wind and electricity by 2025. solar power is generated, bringing a large and stable source of revenue and profit for the corporation in the long term.
Currently, Kosy Group is in the investment phase, focusing a lot on the long-term, so the current revenue and profit is not much. But in the coming years, when the group deploys many large real estate projects and the hydropower, wind and solar power projects are completed and put into power generation, we are confident that after about 5 years, the company's revenue will be increased. The group achieves about 10, 15 trillion VND/year and earns thousands of billion VND/year in profit.
Reporter: Are those goals too challenging, on what basis can Kosy achieve them?
We have an aspiration, the desire is to turn Kosy into a large corporation, creating many high-income, stable jobs, contributing to the development of the homeland and the country.
As for the basis for achieving those goals, the above I have already said, that is: faith. I believe that myself and the leadership team, staff of Kosy Group can do it, I believe that Kosy Group can achieve the huge and challenging goals ahead. To affirm that belief, I and many other brothers and sisters always consider Kosy our life, we put our whole heart, intelligence and responsibility into it.
We set very big and long-term goals for Kosy, but they had to start from very small, very specific things. We build strategies, realistic plans based on our own hands and minds. With firm steps, we will take Kosy step by step to achieve the set goals, becoming a strong corporation in the future.
Reporter: To help Kosy achieve the set goals, what do you think is the most important thing?
The right people are the most important. All challenges and difficulties are solved by humans. It is important to have talented, enthusiastic and suitable people. From those views, we consider staff as the most important, along with other factors such as partners and customers. We consider people as the most valuable asset. Kosy Group has a professional but friendly working environment, everyone respects each other and considers the agency as a second home.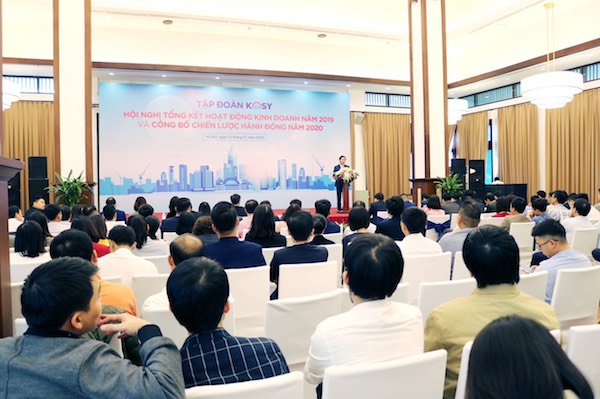 Conference to summarize production and business activities in 2019.
Reporter: What factors do you value in recruiting and hiring people?
In the interviews, I almost don't care too much about the candidate's school, what kind of achievement, but I care more about the ability, experience, job handling skills, honesty, to enthusiasm, care about fierceness and dare to do from the candidates and especially I am interested in the fit, that is, is the person suitable for Kosy's environment, in line with the orientation Kosy's development strategy or not.
Reporter: Why did you choose the multi-industry business model and the two industries of real estate and energy as spearheads?
In corporate governance, one of the important tasks is to manage or control risks. Multi-industry business partly meets this requirement, which is to take advantage of resources, take advantage of the market, and limit risks.
However, not everything can be done, so it is multi-disciplinary to a certain extent, in accordance with the capacity, promoting the strengths of the industries. For a business to develop sustainably, a multi-industry company or any type of company must ensure a stable cash flow. Industries must complement each other to have stable cash flow.
Kosy chooses real estate and energy as two main enterprises, because both are industries with great potential for growth. Although the real estate sector has many opportunities, there are also many potential risks in terms of markets and policies, but besides that, the energy sector generates large and stable cash flows in the long term. They support each other, ensuring the corporation's stable development even when the market is in trouble.
Must manage and operate Kosy to avoid risks, avoid difficulties, or if faced with them, Kosy can still overcome, must be able to control that. Only when you can do that can you dream of making Kosy thrive.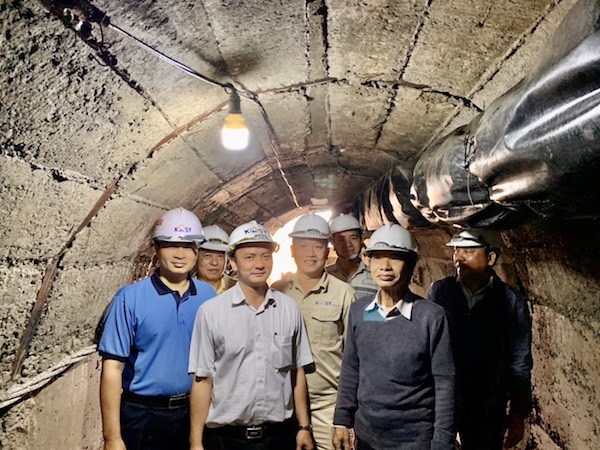 Team of Technical Officers of Nam Pac Hydropower Plant Division.
Reporter: According to him, in the coming time, Kosy will implement many big projects including real estate projects, wind power, and solar power. This requires the resources of the business to be really strong, can you share how Kosy's countermeasures prepare for this problem?
We are preparing for those jobs, in the field of real estate with the goal of starting a few new projects every year. Depending on each project and the absorption of the market, we do each phase, investment divergence, try to sell out until there, with the goal of limiting the capital invested in the project. Because of this field, our policy is to minimize borrowing from credit institutions, ensuring risk control.
As for the energy sector, to achieve the target of 500-800MW of electricity generation by 2025. And to do that, in the next 5-6 years, Kosy will have to arrange a financial source of about 20 trillion VND. However, in this field, hydropower and wind power projects with the characteristics of collateral, clear output and cash flow, we can access large and long-term capital sources at home and abroad. and control loan source, cash flow.
In addition to revenue from business activities, the group now also cooperates with many domestic and foreign partners in capital, technology, and also implements M&A forms.. We are also preparing to increase capital for Kosy Joint Stock Company (an enterprise of Kosy Group) from 1,037 billion VND to nearly 2,000 billion VND to prepare more counterpart capital for projects about to start construction. In addition, we are also preparing many other plans and solutions to well implement the projects, ensuring the corporation's growing growth.
Reporter: How do you divide your working time during the day and what do you do to balance work and life?
I am a person who spends a lot of time at work, about 15 hours a day, more than 15 hours. Of which, I spend a few hours reading, searching for information and improving knowledge, and most of the time I spend thinking, the rest is running the work through meetings, urging departments. , the projects..
As for the work-life balance, I think life is work, work is work, work is life. If we need to find a balance in life, we must practice to have good health, must always study to improve knowledge, improve capacity, must earn income, have friends and harmonize social relationships. society, care about family, children.. and almost to have those things, it must be through labor and work.
Reporter: Your wishes and expectations for Kosy at the age of 12?
On the 12th anniversary of the establishment of Kosy Group, I would like to thank the staff currently working as well as the brothers and sisters who have worked at Kosy, your contributions have built a a Kosy Group as it is today. Thank you to our partners and customers for accompanying Kosy, maybe we still have many shortcomings and limitations, we understand that and always want to find ways to solve those shortcomings and weaknesses to bring Kosy to Kosy. develop.
I am confident that Kosy will develop into a strong corporation, a reputable and responsible corporation, meeting expectations such as creating many jobs, solving many housing needs for people. people as well as provide a part of electricity for the national consumption demand, contributing to the construction and development of the country becoming richer and more beautiful.