Japanese Business Delegation Visited and Worked in the Kosy Group

With an expanding and developing strategy to reach out to other region of the world, Kosy Group enhanced its policy of investment cooperation with foreign enterprises to improve the project implementation.
Previously, Kosy Group had an effective cooperation with strategic partners such that NextOne, a Japanese company that operates in the field of real estate and building prestige in Japan, inveted four (4) units of its strategic partners in Japan to learn and work together with Kosy Group.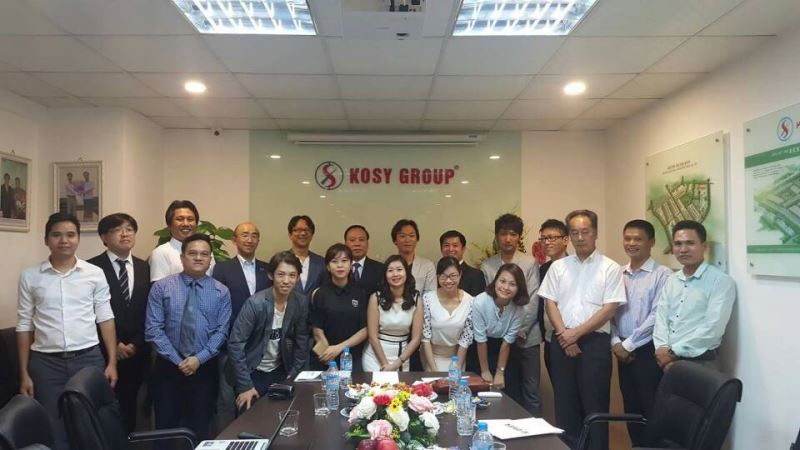 After a long time of research, information survey, and keen observation of implemented projects of Kosy Group, the Japanese business delegation saw a viable opportunity to investment in Vietnam market. Thus, representatives of the enterprises had worked and discussed directions for investment cooperation between the two sides.
During the meeting, Ph.D Nguyen Duc Diep as the Deputy Standing General Director of Kosy Group introduced main areas of activity and plans for implementing future projects. Mr. Nguyen Quang Huy, Deputy General Director of Finance, presented the financial plan as the mobilization and utilization of the Group's capital is the most effective way. The enterprises delegations seemed interested in all the tackled information and wished to learn thoroughly before coming up with an investment decision.
On the morning of the 20th Oct 2016, Japanese partner delegations visited Kosy – Song Cong Area Urban Projects to see fieldwork projects. Business delegations witnessed that Kosy- Song Cong has completed basic infrastructure and works to serve the entertainment needs such as the pitch system like restaurant, green park, and etc. There has been a plot being constructed for the population's row housing project. They likewise said that there were many facilities responding to the needs and entertainment of residents.
Work result and field surveys of Japanese enterprises would be an important basis for both sides to agree on the best investment deal. Leaders of Kosy expressed their sincere gratitude to the goodwill of the Japanese business delegation and hope to intensify the promotion of investment as well as a mutually beneficial cooperation. Japanese business delegations believe that a cooperation and investment opportunities with Kosy Group is a great potential more so, a prompt and efficient implementation of cooperation plans to invest with the Kosy Group for mutual expansion and development.