KOSY Group Chairman: "Listing KOS on HOSE is a stepping stone to deploy large projects, etc"

Before this success, reporter had an interview with PhD. Nguyen Viet Cuong – Chairman and CEO of KOSY Corporation on KOSY's strategic and ambitious orientation after successfully listing shares on HOSE.
Recently, KOS stock has had an impressive session. Can you share the reasons why KOSY chose to switch listing KOS shares from UpCOM to HoSE?
Dr. Nguyen Viet Cuong: On Vietnam's stock market today, HoSE is the largest stock exchange and has the strictest listing regulations. The listing of KOS on HoSE is a long-term goal in our development strategy. Previously, KOSY listed shares on UpCOM as a stepping stone to gain experience, become familiar with becoming a public company, and prepare the necessary resources to make KOS officially listed on HoSE.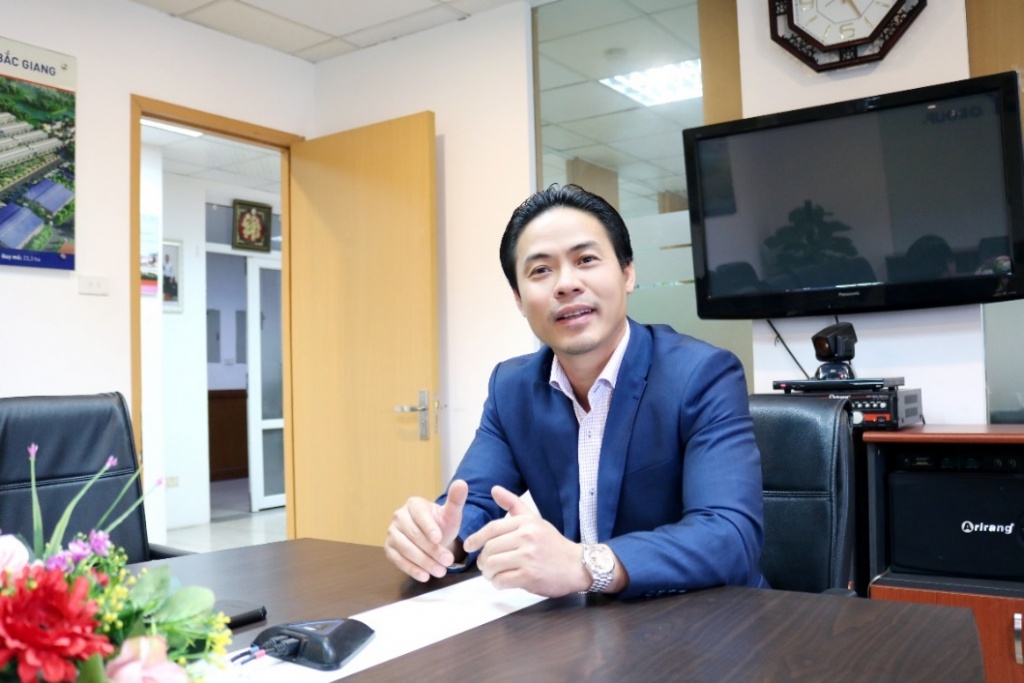 Dr. Nguyen Viet Cuong – Chairman and CEO of KOSY Joint Stock Company discussed about KOS stock changing from UpCOM to HoSE.
Successful listing on HoSE has created an opportunity for KOSY to increase the liquidity of stocks, enhance reputation and brand, information transparency, standardize business operations and especially access to many is access to many domestic and foreign investment sources. We also aim to mobilize capital, aiming to increase the size of the business, getting ready the necessary resources to deploy larger projects in the future.
To be ready for listing on HoSE, KOSY must have had a long and thorough preparation process. Could you please tell us what KOSY has prepared for this listing exchange?
Dr. Nguyen Viet Cuong: In order to qualify for listing on HoSE, businesses need to meet very strict standards, such as: business size, charter capital, and after-tax profit index on equity. ownership (ROE) in the most recent year is over 5%, the number of shareholders is over 300, the previous 2 years are profitable, there is no overdue debt for more than 1 year and at the same time fulfills all tax obligations and other obligations to State agencies; ensure transparent disclosure of information and especially a feasible business development strategy, etc.
After more than 11 years of establishment and development, KOSY has gradually improved itself, achieved a certain scale, sufficient resources to meet strict requirements to confidently enter the largest playground in the stock market
How can you share the results of the last year of KOSY?
Dr. Nguyen Viet Cuong: In 2018, business results of KOSY had encouraging growth. The revenue is over 900 billion dong, the profit after tax is 45 billion. However, this figure is not really commensurate with the potential of KOSY, because the characteristics of the real estate sector often record revenue at the end of the project cycle. Currently, KOSY is deploying many projects at the same time in many provinces in the country, so the business results of KOSY in the future shall definitely be better.
In 2019, KOSY's revenue target is 1,500 billion dong and after tax profit is about 65 billion dong. With existing resources, we are confident of achieving this number.
What are the strategic objectives of KOSY in the coming time? What is your expectation for the development of KOSY in the next 5-10 years?
Dr. Nguyen Viet Cuong: KOSY has the goal of developing to become one of the leading large enterprises in Vietnam, doing multi-sector business, in which real estate and renewable energy are the two key business sector.
Currently KOSY is the investor of many urban area projects with a total investment of several trillion VND in many provinces and cities across the country. Besides, KOSY is also approaching to be the investor, continuing to start many larger-scale projects such as: Hanoi (23.3 ha), Lao Cai (hundreds of hectares), Phu Tho (83 ha), Long An (183 ha), Ninh Binh, Nghe An, Ha Tinh, Dong Nai, Ben Tre, etc. and many other provinces spread across the North – Central – South.
In the field of energy, KOSY is currently deploying a number of hydroelectric plants in Lai Chau with a capacity of 34 MW, with a total investment of over VND 1,000 billion, the target of December 2020 generation. We are also stepping up investment, proceeding to start many new hydro projects in Lai Chau, wind power projects in Bac Lieu (400 MW), Ca Mau (200 MW), surface power projects. In Binh Thuan (200 MW), etc. Particularly in the hydroelectric field, we aim to have 200 MW of electricity generated by 2025 and each year, the revenue of the hydropower sector will be about VND 1,500 billion per year.
In the coming time, when new real estate and renewable energy projects are implemented, we are confident that in the next 5 years, KOSY's revenue shall reach over 10 trillion dong per year and shall be increase two to three times in the next 5 years. We have outlined a clear direction and goal, confident enough that KOSY shall achieve, even surpass these expectations in the near future.
Which basis can you be confident that KOSY will surely achieve these things, sir?
The first reason is what KOSY has done in the development journey over the past 11 years. From a small and difficult business, we have grown to a certain scale, with a charter capital of over VND 1,000 billion, creating jobs for thousands of workers. Therefore, with the current platform, we shall thrive in the future.
The second is the personnel factor. At KOSY, we consider human development a key element of our business development strategy. Therefore, KOSY focuses on building up a team of skilled and qualified personnel, capable and enthusiastic, enthusiastic, and developing KOSY.
Third, currently, in addition to ongoing projects, we determine the preparation of new project funds for the future is particularly important. KOSY has focused its resources on investment preparation, leading to being the investor of many new, larger and more potential projects in the field of real estate, hydropower and solar energy, wind energy, extending throughout the provinces from North – Central – South. In the coming years, we will focus on implementing these projects, contributing to revenue growth and breakthrough profits for KOSY.
Fourth, is the business philosophy of KOSY. In the marketplace, we do not create enemies. On the contrary, we focus on building relationships with friends and partners seriously, honestly, mutual benefits, to develop together.
Fifth, we have spent a lot of time and enthusiasm to research, identify suitable goals, clear, methodical and feasible strategic planning, while ensuring sufficient resources are available to achieve this goal.
Finally, each business has its own unique and relevant business know-how. We have been preparing a lot of resources as well as a plan for the future of KOSY and when these plans are implemented, KOSY will develop and reach a larger scale.
Real estate has cyclical. As an enterprise operating in this field, what will KOSY do to cope with difficulties when the market goes down?
Dr. Nguyen Viet Cuong: Real estate is a cyclical business with many risks when the market goes down. Therefore, in parallel with real estate, we focus on developing renewable energy for stable and durable cash flow. This will be an additional resource, ensuring that businesses grow normally when real estate goes into a downtrend.
Besides, the project segment that we pursue is quite average, plus the calculation of planning, appropriate location selection, so the product of KOSY meets the group of customers with real needs and limitations. Affected by investors if the market goes down. Along with many projects being implemented simultaneously, it will create a stable amount of liquidity and financial flows, helping KOSY not be affected too much by the difficult impacts of the market.
With such initiative, I believe that, if the market goes down, KOSY can even take advantage of strengths and opportunities to break through, expand scale, buy and sell, merge businesses, etc.
According to you, in the coming time, KOSY will deploy many large projects including real estate, wind power, solar power. This requires a great resource, especially capital, Can you share something about KOSY's preparation for this story?
Dr. Nguyen Viet Cuong: To implement projects, businesses always use capital from two sources: equity of the business and the rest is borrowed capital.
For own capital, currently, we are implementing many projects that bring stable and regular revenue. Accumulation from this source will form a counterpart fund for KOSY to implement the following projects.
In addition, on July 22, 2019, we listed KOS shares on the Ho Chi Minh Stock Exchange (HoSE). This listing will give KOSY the opportunity to access and mobilize more domestic and foreign capital, helping to increase the capital size of the business.
Regarding loans, KOSY has good relationships and reputation with financial institutions, credit institutions and financial institutions. KOSY's upcoming projects have feasible plans and have access to banks and credit institutions. For large-scale projects, such as Bac Lieu wind power, we are currently negotiating with foreign partners to cooperate, joint venture and promote the resources of both sides.
In addition to the above financial solutions, in particular each project we have a suitable plan to ensure successful implementation of the project.
KOSY is growing rapidly in size. As the head of a business, what do you need to prepare for the problem of corporate governance?
Dr. Nguyen Viet Cuong: KOSY is a multidisciplinary business, and also a public company, KOSY's activities are always subject to the supervision of the SSC, the Ho Chi Minh Stock Exchange, the society, of the media and most importantly the shareholders.
Therefore, the Board of Directors, especially the head, is really under pressure, from implementing new projects, ensuring revenue growth, to business development pressure, or growing pressure. of stock prices, etc.
For me, KOSY is an aspiration, a goal of success, so these challenges forced me to strive to improve myself, improve the management capacity, think and find the right direction, motivate staffs of all businesses, etc.
I am a well-trained businessman with many years of practical management experience, I am confident in my ability to run KOSY strongly.
At KOSY, we are currently applying targeted management method (MBO), scientific management into executive management, using KPI as a tool to measure work efficiency. This tool has helped me a lot to run KOSY effectively, achieving much success.
Well, on the occasion of KOS shares officially trading on HoSE, how do you forecast the value of KOSY's shares in this dynamic market?
Dr. Nguyen Viet Cuong: KOSY officially listed on HoSE on July 22, 2019, has attracted the attention of the market and investors with the ceiling-hitting milestones of the first session and consecutive increases to VND 29,300 / share, equivalent to a market capitalization of over VND 3,000 billion.
As I shared above, next time, KOSY continues to deploy and start construction of many larger-scale real estate projects, plus some hydroelectric projects, wind power, solar power into power generation. will bring big revenue and profit for businesses.
We are confident that, with a careful and right strategy, and the potential project fund are being promoted, in the next 2-3 years, our stock will be at a high growth and development level, bringing sustainable returns for shareholders.
One again, Thank you very much for your sharing!