Kosy Joint Stock Company reached the Top 10 fastest growing enterprises in Vietnam in 2021

The FAST500 Ranking announcement ceremony was organized by Vietnam Assessment Report Joint Stock Company (Vietnam Report) and Vietnamnet online newspaper on April 24, 2021. This is a ranking built based on independent research and evaluation results of Vietnam Report, officially announced for the first time in 2011.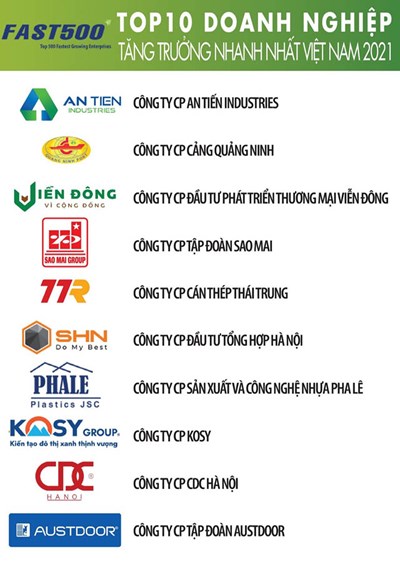 List of Top 10 fastest growing enterprises in Vietnam 2021.
The rankings of enterprises in the Ranking are arranged based on the criteria of compound growth (CAGR) in terms of revenue and business performance. In addition, criteria such as total assets, total employees, profit after tax and corporate reputation in the media… are also used as complementary factors to determine the size and position of the enterprise. in the industry.
According to the General Statistics Office, the growth of the construction industry will only reach 6.76% in 2020, significantly down from the growth rate of 9.1% achieved in the previous year, mainly due to encountering two "shocks". It is the slowdown of the real estate market in 2019 and the Covid-19 pandemic in 2020 extending into 2021. With a sustainable development strategy, Kosy Joint Stock Company has not only maintained its growth rate for many years but also maintained its position as the only name in the real estate industry in the Top 10 Fast-Growing Enterprises. best in Vietnam.
Kosy Joint Stock Company was listed on HOSE in 2019 (code KOS). According to the report at the Annual General Meeting of Shareholders of Kosy Joint Stock Company, the total revenue in 2020 reached 1,355 billion. It is expected that in 2021, the Company aims to achieve a total revenue of over 1,900 billion and pre-tax profit of 60 billion, and at the same time increase charter capital in 2021 from more than 1,650 billion (market capitalization value of 4,500 billion dong) to more than 2,150 billion VND.
In 2021, Kosy Joint Stock Company will start construction of 4 key projects: Kosy City Beat Thai Nguyen project has a scale of 19.9 ha, total investment of over 600 billion VND; Kosy Ha Nam project with a scale of 22.9 ha, total investment of over 500 billion VND; Kosy Ninh Binh project with an area of 40.7 hectares, total investment of 1,100 billion VND; Kosy Riverside project (Lao Cai) with a total investment of 1,000 billion VND.… The highlight in the real estate picture of Kosy Group 2020 is the launch of the Kosy City Beat Thai Nguyen urban area project, which converges all the prime factors in terms of location, expensive in business, outstanding in the mind. investment, synchronous in planning and perfect in utilities, promises to be an entertainment and trendy city in Thai Nguyen.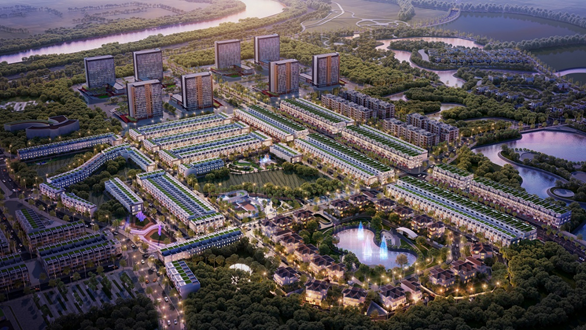 Perspective of Kosy City Beat Thai Nguyen project.
Mr. Nguyen Viet Cuong – Chairman of the Board of Directors of Kosy Joint Stock Company shared about the development strategy of Kosy Joint Stock Company in 2022: "In the short term, Kosy Joint Stock Company focuses on developing commercial real estate projects in the mid-range segment, with low-rise housing products in the central locations of the provinces. In 2021, the total investment of a number of real estate projects of Kosy Joint Stock Company is VND 4,500 billion, expected to increase to over VND 10,000 billion by 2022 with projects up to hundreds of hectares.
Accordingly, in the long term, besides developing commercial projects, Kosy company will expand into industrial real estate and offices for rent in big cities. This is a development strategy to catch up with the needs of the market and the general development trend of the economy. Kosy Joint Stock Company aims to become a reputable professional real estate company in Vietnam.