KOSY'S MARK AT VIETNAM REAL ESTATE FORUM 2018

It is forecast that the real estate market will continue to recover, grow and develop steadily in 2018. Also in this year, the real estate market will still face many challenges and difficulties in supply-demand relations; access to investment land fund; and administrative procedures.
A number of policies that are about to be issued or amended will also play an important role in helping to clarify and remove obstacles for the real estate market. This also motivates real estate enterprises to find suitable solutions to adapt to the new business environment under the direct impacts of the government's amended policies.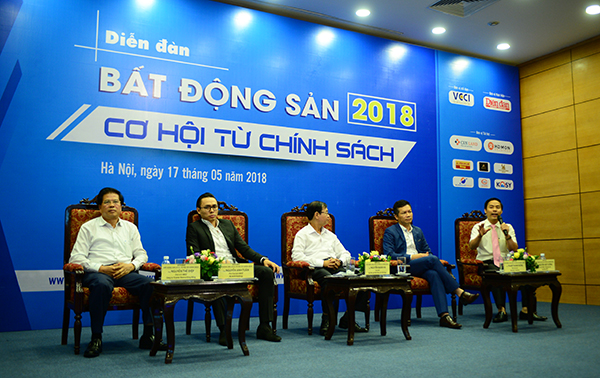 That is why the "Vietnam Real Estate Forum 2018" brings together the participation of leading experts in the field of real estate such as Dr. Vu Tien Loc – Chairman of Vietnam Chamber of Commerce and Industry (VCCI); Mr. Nguyen Van Phung – Senior Expert, Director of Large Corporate Tax Management Department, General Department of Taxation; Mr. Vu Van Phan – Deputy Director of Housing and Real Estate Market Management Department, Ministry of Construction; Prof. Dr. Dang Hung Vo – Former Deputy Minister of Natural Resources and Environment, real estate expert; Dr. Can Van Luc – BIDV's Chief Economist, Member of National Financial and Monetary Policy Advisory Council; Mr. Tran Kim Chung – Deputy Director of Central Institute for Economic Management; Mr. Do Viet Chien – General Secretary of Vietnam National Real Estate Association; Mr. Nguyen Manh Ha – Chairman of Vietnam Association of Real Estate Brokers; Mr. Nguyen Huu Cuong – Chairman of Board of Directors of VITC JSC, Chairman of Hanoi Real Estate Club; Mr. Matthew Powell – Director of Savills Hanoi, etc.
In particular, the forum was also attended by enterprises which have been operating in the field of real estate business such as Kosy Group, Song Hong Reenco, CEN group, HD Mon Holdings, etc.
At the forum, Dr. Nguyen Viet Cuong presented speeches and discussions on issues related to how enterprises are proactive in funding when the government adjusts policies which has a great impact on real estate market.
According to Dr. Nguyen Viet Cuong, the real estate market in Vietnam is showing signs of potential development from the prosperity of the economy. Faster rate of urbanization (about 3.4% per year) and the young population are putting significant pressure on the real estate market, as the demands for urban housing and for increasing housing area per capita are increasing (currently 22.8m2/person in our country, lower than the world standard of 25m2/person).
In reality, there are a lot of real estate projects which are being implemented and will be implemented, and there are also multiple of enterprises investing in this field. However, not all enterprises have sufficient financial capacity to proactively successfully implement the projects without encountering problems of capital mobilization.
Real estate is a field of great demand for capital; however, many statistical reports show that there is up to 70% of investment capital in this field coming from bank loans (while the percentage is about 35% in other countries). And the total outstanding real estate loans in the last 2017 was 450,000 billion dong, accounting for 6.53% of outstanding loans to the economy.
"This story is exposing the reality of our capital market which still has many limitations, creates capital structure which is inadequate and potentially risky, especially when the government introduces policies to limit the flow of money into real estate as currently", Mr. Cuong said.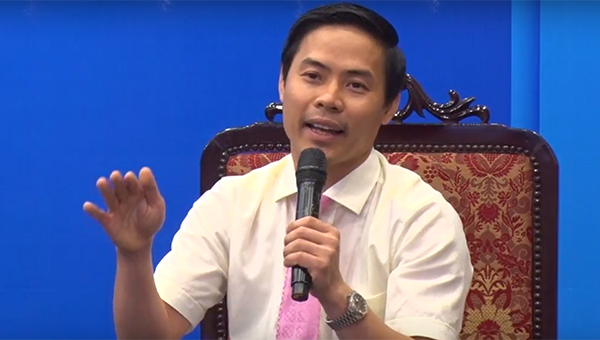 The promulgation of the circulars No. 06/2016/TT-NHNN dated 27 May 2016, No. 19/2017/TT-NHNN dated 28 December 2017, or the Official Letter No. 563/NHNN-TTGSNH prescribing investment credit limit in real estate, is the tightening of the State Bank, which has created a great challenge but also an opportunity for enterprises to gradually reduce their dependence on banks and seek self-financing, ensuring the stable development of the enterprises and contributing to the more sustainable development of the real estate market.
To do that, enterprises should first focus on the group of proactive solutions and self-create their comparative advantages such as: Building and developing business values, building trust in partners, customers and staffs by prestige and serious, honest attitude. This is the most different competitive strength, helping enterprises improve their prestige and maintain their position.
In addition, enterprises can choose the market segment in line with their strategies and strengths. For example, instead of pursuing high-end segments that are overwhelmed by supply and fiercely competing with foreign enterprises, enterprises can seek profits in mid-end segments that meet the real demand and are encouraged and favored by the government.
In addition, enterprises can select nice projects situated in favorable locations, suitable, easy to liquid: Enterprises need to promote investment research and market survey, etc. before deciding to invest in project implementation.
At the same time, enterprises should not forget to professionalize the sales and create cash flow: Methodically planning business and communication strategies with attractive policies stimulating customers aimed at achieving good liquidity, minimizing inventory and recovering capital quickly.
In addition to the above factors, enterprises may improve their capital capacity in various ways: Increasing charter capital to increase the scale and potential development in the future; Mobilizing advance capitals from customers; Issuing bonds; Mobilizing capital on the stock market; Engaging in cooperation, joint venture, association, transfer.
In addition to the proactiveness of enterprises to find solutions to overcome difficulties, Mr. Cuong also proposed that the government should do research to promulgate more suitable policies to promote and help enterprises improve their capital capacity for development.
Specifically, the deadline for payment of land use fees for projects should be adjusted. "Promulgate mechanisms and policies for development of capital market, perfect the mechanisms for development of financial market and housing in order to provide stable medium- and long-term capitals for the real estate market. Establish real estate investment trusts to receive investment capitals on the stock market, thereby investing in real estate … ", Mr. Cuong suggested.
Also, according to Mr. Nguyen Viet Cuong, Chairman, when the regulation has been promulgated, the land projects would be eligible to mobilize advance capitals from customers when the investors have completed the construction of basic infrastructure. This makes enterprises hesitate when considering capital capacities in difficult market conditions. Therefore, it is suggested that the state authorities do research and consider loosening this regulation, allowing enterprises to mobilize advance capitals of customers sooner, and at the same time set out the regulations and necessary binding conditions  to control the operations of enterprises, ensure the use of advance capitals for the right purposes and commitments, and protect the interests of customers.
For condominiums, mixed-use buildings, enterprises are entitled to mobilize advance capitals from customers with divided products after the completion and acceptance testing of foundation (which is stipulated in Article 55 of the Law on Real estate business, amended in 2014). For real estate such as bottom lands, it is suggested that enterprises are entitled to mobilize capitals from customers with divided products after the lands have been cleared and decisions have been made to allocate lands and start the projects. For real estate such as unfurnished houses, low-rise houses, enterprises are entitled to mobilize capitals from customers after the enterprises have freed and leveled up the grounds by the project phases.
The opinions were expressed very closely and deeply which touch the focus of existing issues of the market and have been highly appreciated by participants and the media.