LOOSEN CONDITIONS FOR MOBILIZING CAPITAL FROM CUSTOMERS

Speaking at the recent "Real Estate Forum 2018: Opportunities from Policies", Mr. Can Van Luc – BIDV's Chief Economist, Member of National Financial and Monetary Policy Advisory Council confirmed that the system of mechanisms, policies and markets on taxes, fees, capital sources, financial products, etc. are necessary factors for the real estate market to develop healthily.
Pretty tight capital sources
However, Mr. Luc commented that the six main sources of capital for real estate including: State capital, foreign capital, guaranteed credit capital and private capital (equity capital, contributed capital) are pretty tight.
The evidence is that in 2018, the Government plans to disburse 1 trillion VND to the affordable housing loan program for low-income people, including 500 billion VND granted by the state and 500 billion VND self-financed by Vietnam Bank for Social Policies. With such capital, only a number of large projects may use up the same.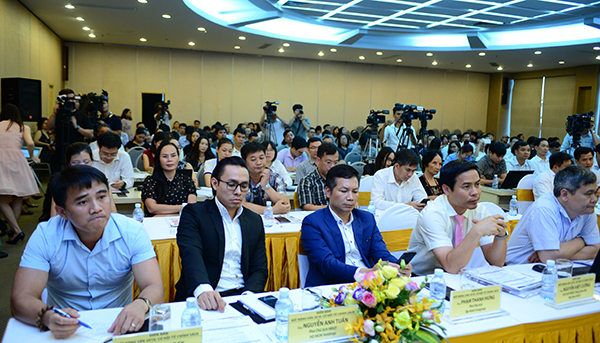 According to Mr. Luc, the shortcomings in real estate finance and the underdevelopment of housing savings fund mainly resulted from the lack of capital, mechanism, methods which are not suitable for the market. In addition, the financial institutions system being not diversified or lacking investment trusts or housing mortgage lending agencies are also the barriers to financial market. Thus, he suggested that "it is necessary to have a common housing savings fund as successful as that of Thailand and Singapore."
Self-financing enterprises
The domestic real estate market has experienced 10 years of crisis, gradually recovering and developing but being hampered by policy barriers.
Mr. Nguyen The Diep, Chairman of Reenco Song Hong JSC, said that the government should issue sustainable and macro-economic policies, while enteprises need long-term strategies.
"In the trend of small apartments, small families, if the policies still approve the projects as today which are 70% of large area, 30% of small area, it is contrary to such trend. Therefore, it is necessary to issue appropriate policies, the same to enterprises", Mr. Diep said.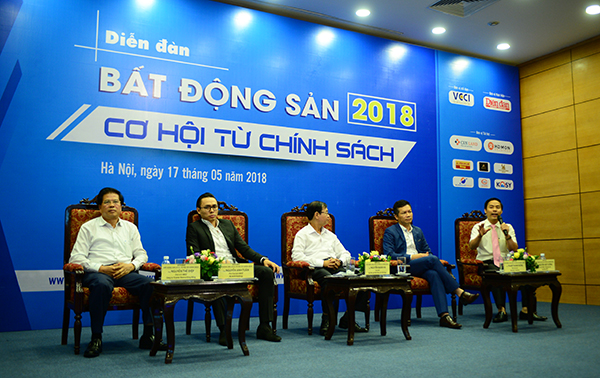 Also at the forum, Mr. Nguyen Viet Cuong – Chairman of KOSY Group offered a number of solutions for enterprises to choose the market segment in line with their strategies and strengths. For example, instead of pursuing high-end segments that are overwhelmed by supply and fiercely competing with foreign enterprises, enterprises can seek profits in mid-end segments that meet the real demand and are encouraged and favored by the government.
At the same time, enterprises should not forget to professionalize the sales and create cash flow: Methodically planning business and communication strategies with attractive policies stimulating customers aimed at achieving good liquidity, minimizing inventory and recovering capital quickly.
And above all, to increase capital capacity, enterprises may increase charter capital to increase the scale and potential development in the future, mobilize advance capitals from customers, issue bonds, mobilize capital on the stock market, or engage in cooperation, joint venture, association, transfer.
In addition, he also wishes that the state loosens the conditions for mobilizing capital from customers, allows enterprises to mobilize advance capitals sooner, and at the same time sets out the regulations and necessary binding conditions to control the operations of enterprises, ensures the use of advance capitals for the right purposes and commitments, and protects the interests of customers.
For condominiums, mixed-use buildings, it is suggested that enterprises are entitled to mobilize advance capitals from customers with divided products after the completion and acceptance testing of foundation (which is stipulated in Article 55 of the Law on Real estate business, amended in 2014).
For real estate such as foundation lands, it is suggested that enterprises are entitled to mobilize capitals from customers with divided products after the lands have been cleared and decisions have been made to allocate lands and start the projects. For real estate such as unfurnished houses, low-rise houses, enterprises are entitled to mobilize capitals from customers after the enterprises have freed and leveled up the grounds by the project phases.
"To sum up, in addition to the wish that the state changes the policies and creates favorable conditions for capital mobilization, it is equally necessary that enterprises operate in a healthy and prestigious way and create customer confidence since customers since customers is the factor that determines the development of the market" – Mr. Cuong confirmed.
– Business Forum Newspaper –