Vice General Director of Sacombank Visited and Worked with KOSY Joint Stock Company

Mr. Nguyen Xuan Vu was welcome by Mr. Nguyen Viet Cuong – Chairman of BOM/General Director, Mr. Nguyen Duc Diep – Standing Vice General Director, and Mr. Nguyen The Hung – Vice General Director and representatives of officials – employees of KOSY Joint Stock Company.
At the meeting, Mr. Nguyen Viet Cuong, Chairman of BOM / General Director of KOSY Joint Stock Company introduced the main features in the course of operation where the company's projects were implemented in full or partial status, the objectives, and the strategies for developing the Company in the coming days. As an enterprise of diversified business, the company determines real estate as its main business having an impact on the company's growth in the coming days.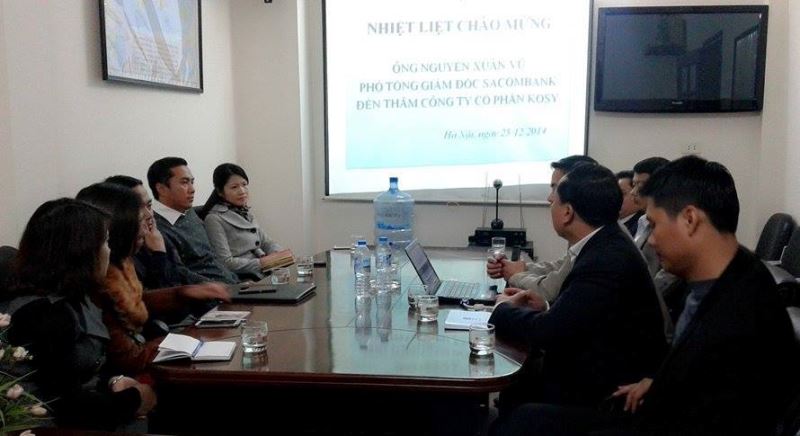 In the recent years, our national economy faced many difficulties. The real estate market has a great impact on enterprises as well. Nevertheless, with determination, the company can overcome the difficulties, challenges, and gradually grow. It is urgently completing its legal obligations and preparing the necessary conditions for the infrastructure construction projects invested in the provinces of Lao Cai, Thai Nguyen, and Bac Giang.  The company will also develop more urban areas with high economic efficiency in regions across the country. It is also actively preparing the requirement for listing in the stock market.
Speaking at the meeting was Mr. Nguyen Xuan Vu- Vice General Director of Saigon Thuong Tin Commercial Joint Stock Bank – Sacombank wherein he congratulated the company with what it has achieved and appreciated its efforts in the recent years. Particularly, he was impressed by the company's growth despite the rise of real estate firms' bankruptcy, dissolution, and closure.  Mr. Nguyen Xuan Vu believes that with appropriate strategies, strong management capability, and highly qualified, enthusiastic, and passionate workforce, KOSY Joint Stock Company will steadily grow. He also foresees its reputation and position in the market in the coming days.
The two parties agreed to cooperate. Thus, Saigon Thuong Tin Commercial Joint Stock Bank committed to advise the company financially and will study the funding schemes and the guarantee forms to help KOSY Joint Stock Company strengthen its capacity to implement its investment projects.