First working day of 2013 in Kosy JSC

The 15th of February 2013 (6th day of the Lunar New Year) was selected by Kosy JSC as the first working day as per the company's executive board. After that, all wished a happy new year and good health and prospects to one another.
The company's executive board organized the first meeting at the beginning of the New Year to discuss deployment of important tasks in the year. In 2013, Kosy JSC made efforts to strengthen, sustainably develop all aspects, and prepare a good foundation for further improvement in coming years.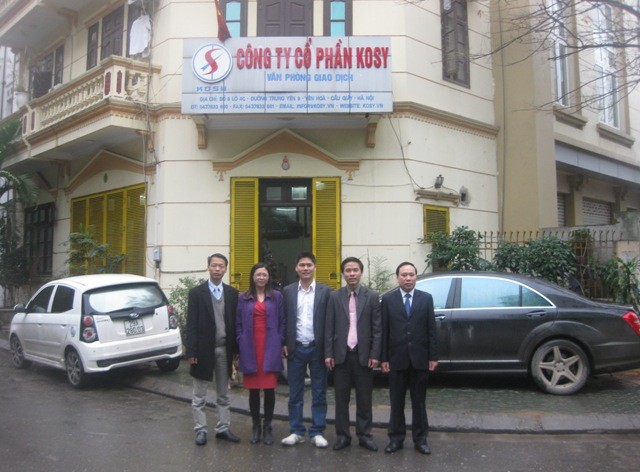 In the meeting, members of the company's executive board discussed important matters such as human resources, financial position, and method of project and program deployment.
2012 was a year of economic difficulties for Kosy JSC as it strived to obtain results thru the efforts of the company's executive board and staff and the enthusiastic support of the partners. In spite of these, it had major impacts on finance and culture. In 2013 when it must take a certain time to partly remedy such difficulties and shortcomings, the real estate market gradually reduces difficulties and it is a promising year to seize advantages for Kosy JSC. In its first meeting, the company's executive board agreed with contents to obtain a long-term objective for at least the first six (6) of 2013.
Regarding human resource, the company had an effective organizational structure including highly qualified, enthusiastic, and passionate individuals. The company agreed to strengthen and re-organize human resource right from the start of year such as more suitable job transfer and assignment, cutting off misemployed and unethical staff, and recruitment for necessary positions to be filled with people who meet the job requirement.
As to the company's culture, with a view to building an open-minded working atmosphere and provide more opportunities to develop capacity of individuals, leaders, and staff in mutual solidarity and respect, the company's leaders will further strive to care for employees' lives, increasing salary, and recognizing individuals who are working well and effectively.
The company will exert efforts to develop and strengthen healthy financial system, balance expenditures and incomes, and take the initiative in financial source to deploy projects and programs.
As to real estate, the company has the determination to deploy urban area projects and mobilize capital source, human, and machinery to implement projects early and put it into service.
The company will complete the works as scheduled and ensure technical and aesthetic requirements and continue to sign some new contracts in 2013.
The company's leaders will assign Hanoi Financial School to promote enrolment of students and open some branches in provinces.
Besides, the company's leaders agreed with other contents. In 2013, the company restructured, built and strengthened organizational structure, enhanced management capacity, and prepared a firm foundation for development in the following years.
The company's executive board, by its capacity, will continue to enable Kosy JSC to strongly develop and become a large economic and influential group in Vietnam and in the world.
Nguyen Viet Cuong – Chairperson of the BODs/ General Director of Kosy JSC.