Kosy Group appoints General Director

This is an important milestone for Kosy Group as the addition of this senior executive will meet the new business orientation of the Group in the future.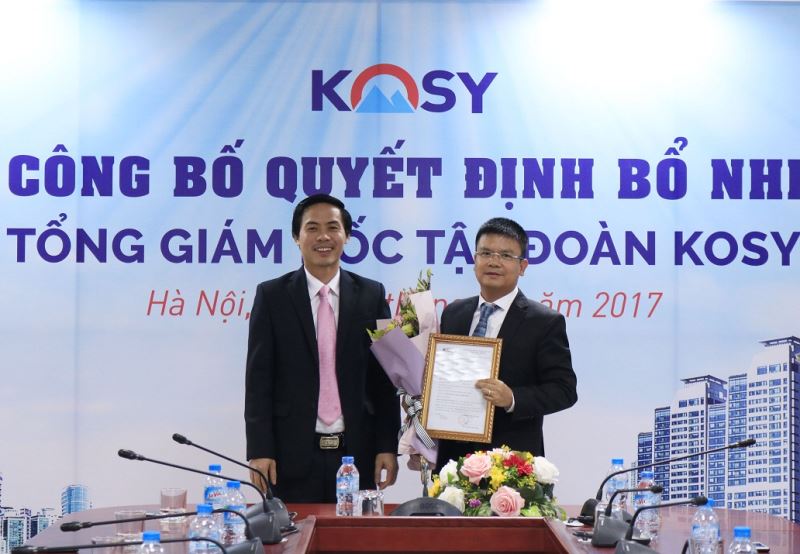 According to the long-term strategy, Kosy Group has set up challenging objectives for the execution and development of real estate, hydropower, energy and information technology projects. Becoming a public company, Kosy Group is experiencing tremendous growth in both quality and quantity. Therefore, aming to further improve corporate governance capacity to meet new business orientation, Kosy Group has taken the initiative in making appropriate reforms, separating the roles of management and operation in the operating apparatus.
Accordingly, with the appointment of Mr. Hoang Ha Phuong as the General Director, Dr. Nguyen Viet Cuong will hold the position of Chairman of Board of Directors who advises on and determines strategic orientation for the Board of Directors in the course of operation.
Born in 1978, before joining Kosy, Mr. Hoang Ha Phuong held the position of General Director of Tasco Joint Stock Company – a large enterprise with more than 40 years of operation in the fields of real estate, construction, roads and bridges, etc. which are the fields closely similar to those of Kosy Group. Under his management, Tasco has developed strongly, marked with many real estate projects, transport projects in many provinces and cities across the country. In addition, Tasco has been a public company since 2008 and owned shares with high liquidity, attractive to investors.
With extensive management experience and solid foundation of knowledge and deep thinking, Mr. Hoang Ha Phuong is considered a promising actor that will make Kosy achieve breakthroughs and challenging objectives and plans in the near future.