Kosy Group donated 10 billion dong to build 200 houses for poor households in Lao Cai province

On October 12, 2021, Kosy Group cooperated with Lao Cai Fatherland Front Committee to organize a program to receive funding and start construction of "Kosy Shelter" for 200 poor households and households under preferential treatment policy in Lao Cai province in 2021-2022.
Supporting poor households to build houses is one of the efforts of Lao Cai province to directly help the poor with housing problems, reduce difficulties, ensure settlement, and help people step by step out of poverty, have stable life. These are activities associated with the goal of building new countryside and reducing sustainable poverty.
Through the provincial survey in the localities, the majority of poor households facing difficulties in housing are scattered in residential areas and residential lines. Many households are living temporarily on agricultural lands far from residential areas, do not have technical infrastructure system, lack transportation systems, and use water directly from local spring water from streams. Most of the poor households that requested support to improve their houses were in extremely difficult circumstances, households under preferential treatment policy.
Understanding and sympathizing with the difficulties of Lao Cai people, Kosy Group has donated 10 billion dong, supported the construction of 200 houses for poor households and households under preferential treatment policy. As Lao Cai soon enters a harsh winter, the timely support of Kosy Group has helped households to build a cozy house, peace of mind for labor and production.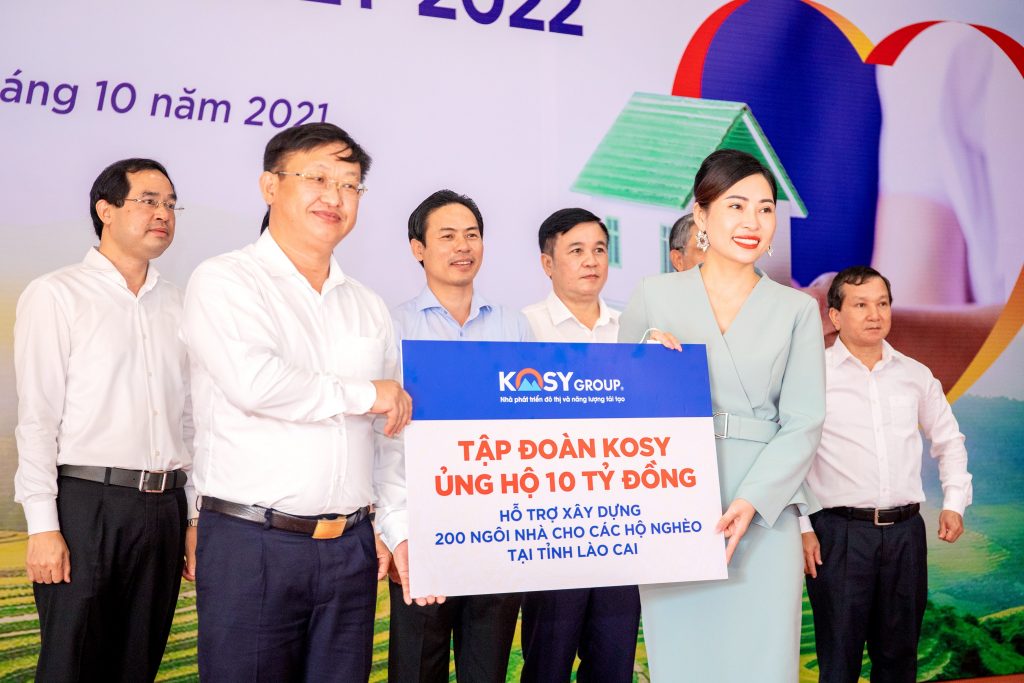 Speaking at the ceremony, Mr. Nguyen Viet Cuong – Chairman of Kosy Group shared: "Lao Cai is my second hometown, the land that nurtured and educated me from childhood to adulthood. When I became an entrepreneur, I always wanted to contribute to the construction of Lao Cai's hometown, which is increasingly rich and beautiful, through projects that beautify the city's appearance or social security programs to help poor households, households under preferential treatment policy with many difficulties in the province. The donation of 10 billion dong to support the construction of 200 houses for poor households and households under preferential treatment policy is the heart and affection of Kosy Group and all employees, supporting people to have a new and spacious house and a better life. It can be said that corporate development associated with social responsibility is the sustainable direction that the Group is pursuing. We always take the spirit of humanity, towards the community as a guideline for all activities, that has made Kosy culture and people.".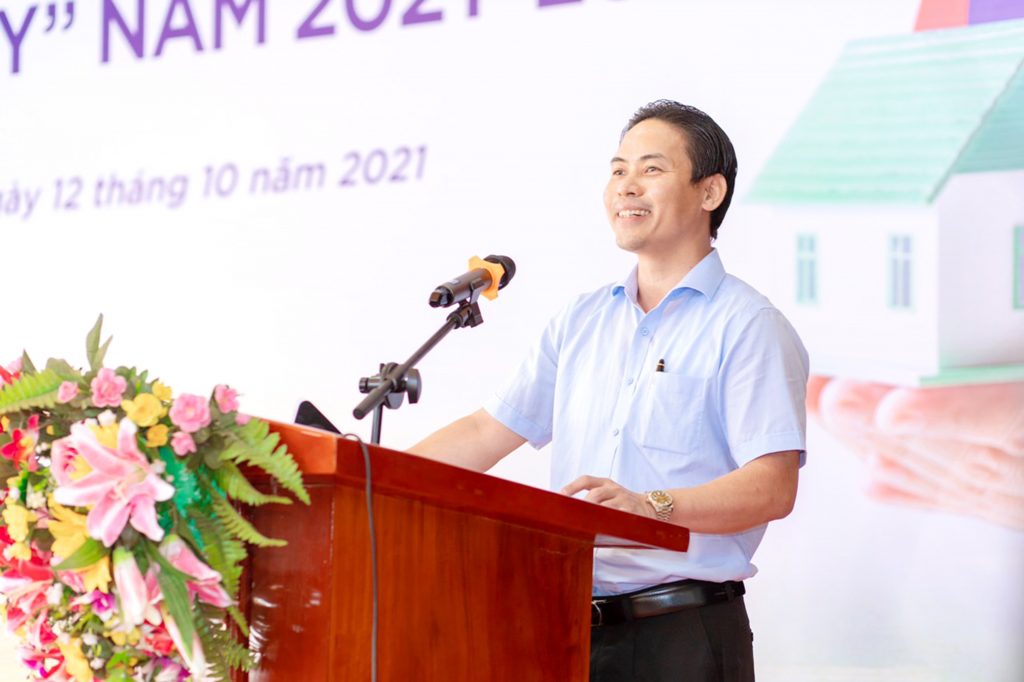 Construction of 200 houses in "Kosy Shelter" program in Lao Cai is divided into 2 phases from the fourth quarter of 2021 to 2022. In which, in phase 1, Kosy Group will support the construction of 55 houses in Bao Thang district, Bac Ha district and Lao Cai city, with the goal of completing before December 31, 2021. In Phase 2, the Group shall support the construction of 145 houses in the province, it is expected to be completed in 2022.
On behalf of the Provincial Party Committee, Provincial People's Committee, Provincial Fatherland Front Committee, Mr. Trinh Xuan Truong – Deputy Secretary of the Provincial Party Committee, Chairman of the People's Committee of Lao Cai province expressed deep gratitude and appreciation for Kosy Group's culture and corporate responsibility to the community. He said: "In recent years, taking care of the poor and social security in the province has always received the attention of enterprises and people of all classes inside and outside the province. This is a practical resource to help poor households get out of poverty, reducing the poverty rate in the province to 8.2%. Sincerely thank Kosy Group for caring and sharing with difficult situations in Lao Cai province. It is a respectable giving with spirit of "The intact leaves protect the tattered ones".
After receiving a funding of 10 billion VND from Kosy Group, provincial leaders, leaders of the Provincial Fatherland Front Committee, departments and leaders of Kosy Group participated in the groundbreaking ceremony of house construction at Ms. Chao Thi Phuong's family, Khoi Khe village, Phong Hai town, Bao Thang district, Lao Lai. This is the first of 200 houses supported by the Kosy Group in construction.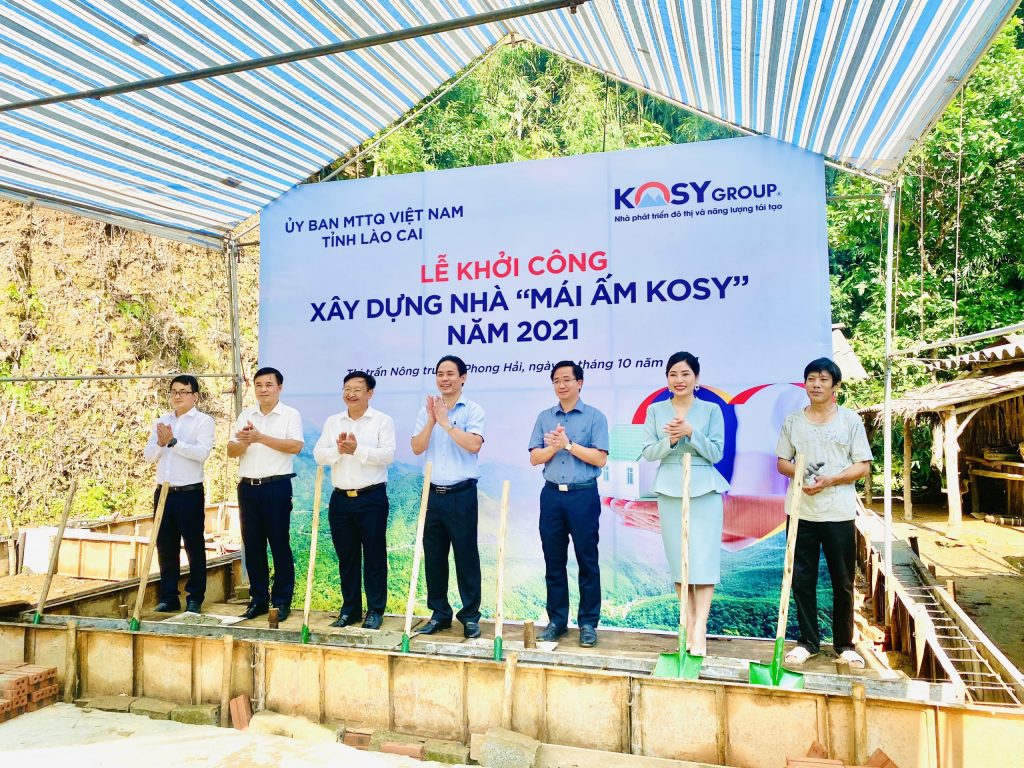 The householder, Ms. Chao Thi Phuong shared: "Our family is very touched and sincerely thanks Kosy Group, the Provincial Fatherland Front Committee for caring and helping my family as well as many other difficult households, so that we can build the new home we've been wanting for so long. A solid house not only helps us shelter from the rain and sun, but also a place where we start a new life.".
The program "Kosy Shelter" in Lao Cai is implemented by Kosy Group in collaboration with the Lao Cai Provincial Fatherland Front Committee. The program not only promoted the spirit of "The intact leaves protect the tattered ones", "when drinking water, think of its source", support the poor, gratitude to relatives of people with meritorious services to the revolution, but also contributed to the successful implementation the resolution of the 16th Lao Cai Provincial Party Congress; Directive 13-CT/TU dated June 9, 2021 of Lao Cai Provincial Party Committee on building new countryside in the period of 2021-2025 and implemention of the goals of Project No. 10/DA-TU on sustainable poverty reduction in Lao Cai province in the period of 2020-2025.
Beside growth, carrying out social responsibility activities is a humane and sustainable development orientation that Kosy Group attaches special importance to. Over the years, the series of "Kosy people for the community" events has been effectively deployed every year across the country with practical and meaningful actions such as: building bridges, roads, schools, cultural houses, helping disadvantaged people, supporting the epidemic prevention and control movement of the Government and localities heavily affected by Covid-19… In just October, 2021, Kosy Group continuously implements many social responsibility programs in localities such as Lao Cai, Ha Nam… with a budget of up to 15 billion dong.
Kosy Group is known as an urban and renewable energy developer with a series of real estate and renewable energy projects in many provinces from the North to the South of Vietnam. In the field of real estate, Kosy Group has successfully built many urban areas, continued to expand the land fund, started many projects with a scale of up to hundreds of hectares, with a total investment of up to tens of trillions of billion dong.
In the field of renewable energy, Kosy Group is operating many wind power and hydropower plants. In the coming time, Kosy Group will continue to implement many hydropower, storage energy, onshore wind power, offshore wind power, solar power projects…, helping to ensure stable revenue and profit for the Group's business activities.