Kosy Group donated 500 million VND to build Tran Khanh Du temple in Ha Nam

On June 6, 2021, Kosy Group donated 500 million VND to support the construction fund of Nhan Hue Vuong Tran Khanh Du temple in Duy Hai ward, Duy Tien town, Ha Nam province.
Tran Khanh Du Temple was established by the local people to remember the merits of Nhan Hue Vuong Tran Khanh Du – a talented general in the resistance wars against the Mongol & Yuan Dynasty in Tran Dynasty, was called as a hamlet in Nha Xa, Duy Tien, Ha Nam. After the third victory over Mongol & Yuan invaders, Tran Khanh Du returned to Duy Tien, entered the temple to practice and taught weaving to the villagers, then gradually developed into silk weaving as now. Experiencing the resistance wars, the temple was used as a revolutionary base, so far it has mostly decayed and needs to be rebuilt.
In order to build a spiritual work of worship and gratitude to General who has made great contributions to the locality, the government of Duy Hai ward, Duy Tien town, Ha Nam has called on enterprises, benefactors and human local people support the temple construction fund. The Fatherland Front Committee of Duy Hai Ward said that this is a project built with socialized resources, so it will be implemented for a long time, devided into construction items. Immediately after receiving the pioneering funding from Kosy Group, the locality will carry out demolition, site cleaning, contractor selection and pre-construction of the front house. On that basis, the local government will continue to call for community contributions to complete the next items.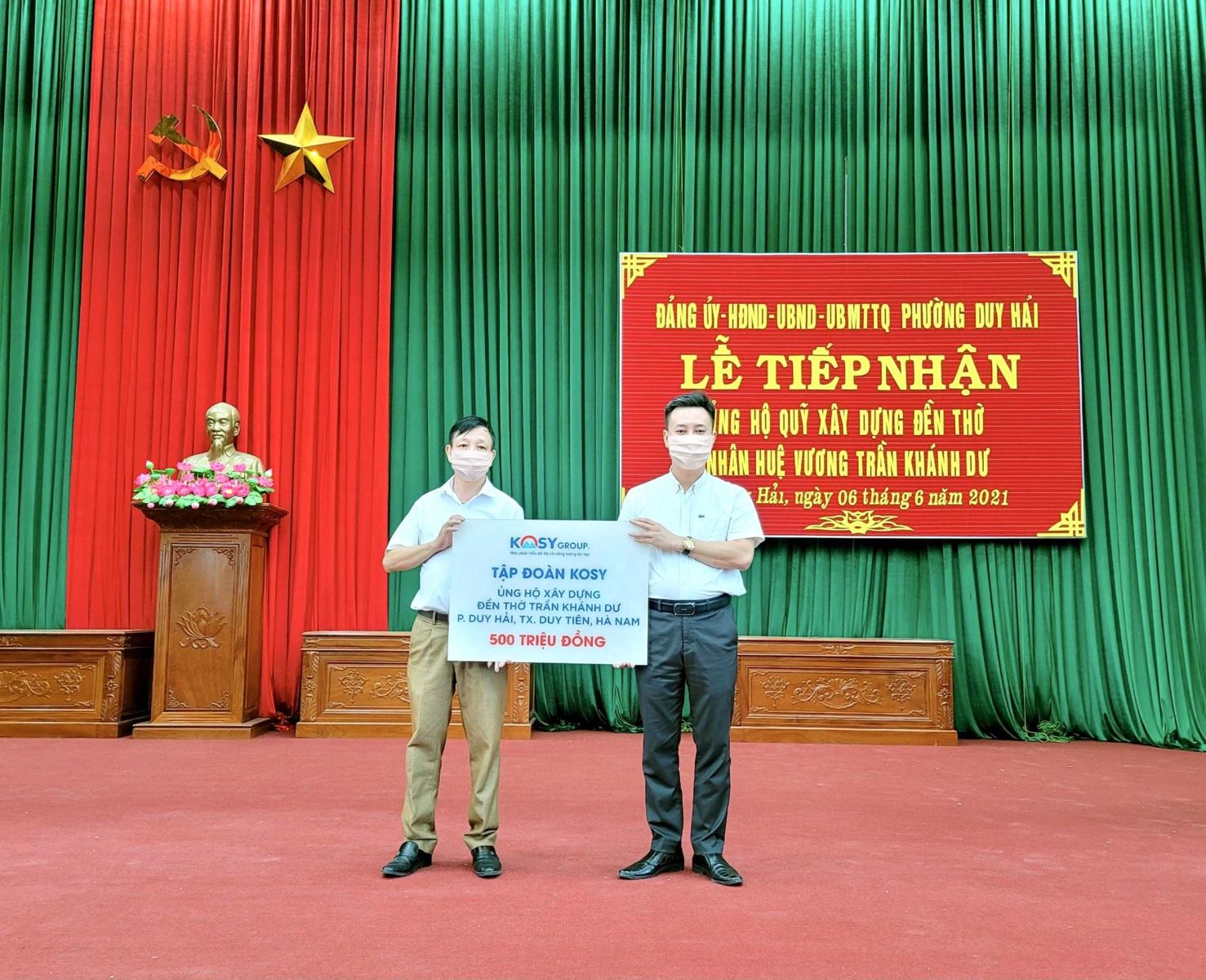 At the ceremony to receive support for Nhan Hue Vuong Tran Khanh Du Temple Construction Fund, Mr. Nguyen Anh Toan, Deputy Director in charge of Project Management Board of Kosy Ha Nam Urban Area, representative of Kosy Group shared: "As an investment enterprise in the province and looking forward to a long-term association with the locality, Kosy Group is honored to be a pioneer in contributing to the government and people of Duy Hai ward to realize the desire to build Tran Khanh Du Temple. We believe that, after being inaugurated, Nhan Hue Vuong Tran Khanh Du Temple will be a cultural and religious space, contributing to enriching the spiritual life of the people in the region as well as preserving the traditional cultural values in the period of integration and development."
On behalf of the Party Committee, People's Council, People's Committee, Fatherland Front Committee of Duy Hai Ward, Mr. Nguyen Quoc Hinh – Secretary of the Party Committee acknowledged and appreciated the cooperation of Kosy Group: "With a mind and a great sense of social responsibility, Kosy Group has laid the first foundation, accompanies us and people to fulfill the local aspirations. From this very meaningful action, we hope to spread the sense of community responsibility to a large number of other benefactors so that the project has enough resources to be completed soon."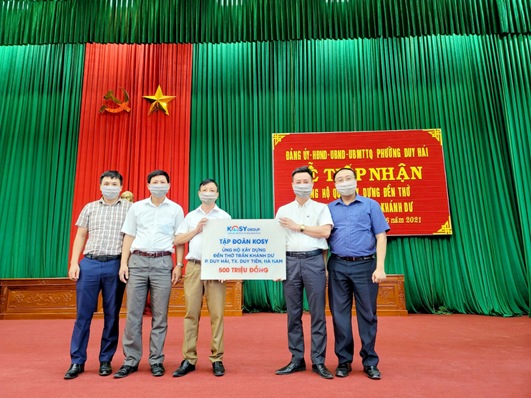 It is known that the event is part of a series of activities showing the culture of "Kosy people for the community". Recently, in response to the spirit of "fighting the epidemic like fighting the enemy", Kosy Group donated VND 3 billion to the Covid-19 Vaccine Fund, supporting Bac Giang province with VND 500 million to prevent epidemics, giving gifts to people of Huoi Say village (Dien Bien) due to the influence of the epidemic… and a series of volunteer activities across the country.
Established in 2008, Kosy Group has more than 20 member units, operating in multiple industries, in which real estate and renewable energy are two key areas. Kosy Joint Stock Company – a member of Kosy Group, is the investor of many urban areas, listed on the HOSE stock exchange, with a market capitalization of more than 4,000 billion dong. In addition, member units of Kosy Group have been the investors of many real estate, hydropower, wind power, solar power projects … with total investment of thousands of billions of dong.
In the field of renewable energy, Kosy Group is implementing Nam Pac hydropower projects (Lai Chau) – 34 MW, Muong Tung hydropower (Dien Bien) – 30 MW, Pa Vai Su hydropower (Lai Chau) – 38 MW, Kosy Bac Lieu wind power phase 1 with capacity of 40 MW and will start construction of many other energy projects in the near future. By 2025, Kosy Group will have 500 MW of hydro power, wind power, and solar power to generate electricity and connect to the national grid.
In the field of real estate, Kosy Group is implementing many urban projects in the provinces and from now until the end of 2021, Kosy Group will start 4 real estate projects: Kosy Ha Nam urban area – 23 ha, Kosy Lao Cai urban area – 30 ha, Kosy Ninh Binh urban area – 41 ha, Kosy Riverside Lao Cai urban area – 48 ha.
Kosy Ha Nam urban area has a total area of 23 hectares, located on National Road 38, in Duy Tien town, Ha Nam province. The project is 600 m from National Road 1A, 2 km from Cau Gie – Ninh Binh highway, surrounded by industrial zones of Dong Van II, Dong Van III, Dong Van IV and Song Nhue dike. The project is currently completing the final step in site clearance and will begin construction in July 2021. Possessing a prime location "first, near the city – second, near the river – third, near the street", Kosy Ha Nam urban area is forecasted to create a "fever" of local real estate in the near future.