Kosy Group held the 2021 Review and 2022 Target Plan Conference

At Emeralda Ninh Binh Resort, on January 15, 2022, Kosy Group held the 2021 Review and 2022 Target Plan Conference.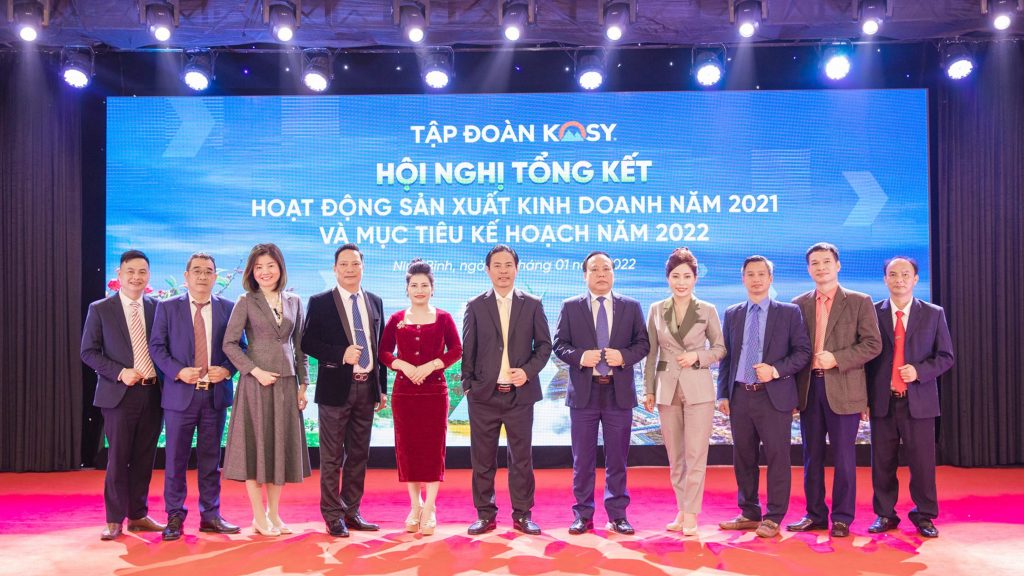 In attendance were the Executive Board: Chairman/General Director Nguyen Viet Cuong, Vice Chairman Nguyen Thi Hang and 9 Deputy General Directors in charge of the Group's activities. In particular, the conference gathered hundreds of employees representing departments and branches of the Group across the country. The conference reviewed production and business results in 2020, set goals and plans for 2021 as well as honored outstanding individuals and groups in the previous year.
2021: "Breaking the Waves"
The year 2021 will be the second year in which the entire world has been severely affected by the Covid-19 pandemic, with more complicated developments. Kosy Group, on the other hand, has firmly conquered problems and achieved highly proud achievements thanks to the appropriate and long-term development strategy. At the conference, Mr. Nguyen Viet Cuong, Group Chairman, predicted that 2021 will be a prosperous year for Kosy Group, with significant achievements enhancing the prestige and brand of Kosy Group.
In the field of renewable energy, after a 12-month building period, the Kosy Bac Lieu Wind Power Plant project phase 1, with a capacity of 40.5MW and a total investment of about VND 1,600 billion, was officially put into operation and connected to the national power grid in October 2021. This event symbolizes a significant milestone in the Group's growth, elevates the Group's brand name in the long-term development strategy, and demonstrates Kosy Group's renewable energy capabilities.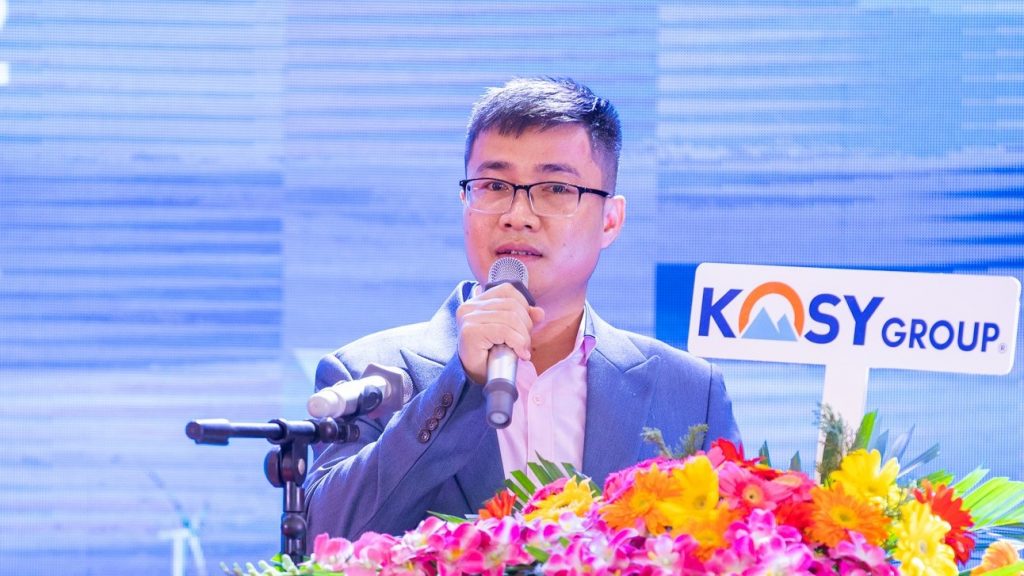 Mr. Ho Van Tuan, Deputy Director of the PMU, shared his delight at witnessing and participating in the 365-day quick construction trip of more than 300 employees on the wind power site to create a "miracle": "Although the project's progress was hampered by the outbreak of diseases in the southern provinces, the rainy season arrived early, the price of raw materials rose, and transportation of extra-heavy weights proved difficult… the project has consistently met the set progress milestones to reach the finish line under the close supervision of the Executive Board and the determination of the Management Board."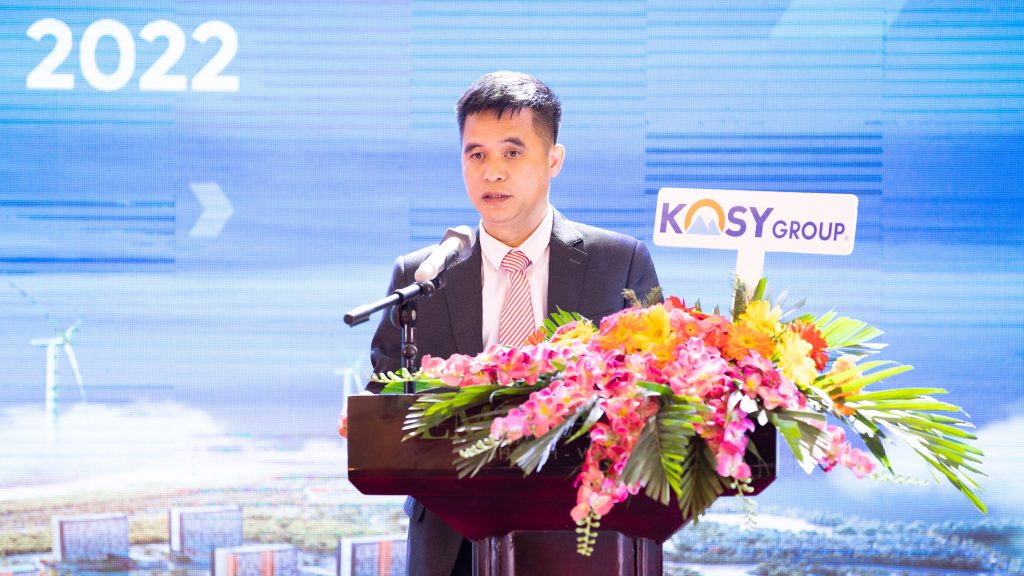 In addition, after more than two years of construction, the Nam Pac Hydropower Plant – with a capacity of 34 MW and a total investment of VND 1,100 billion – began generating commercial electricity in 2021. At the Review conference, Mr. Luong Quoc Hung, Head of Project Management Department of Hydropower 1 shared his experience: "A good project needs strict management of quality and schedule. The project leader must have a broad understanding of the project, be able to advise the Executive Board on feasibility and implementation plans, and possess management, personnel assignment, and financial management abilities. The management and supervision of contractor quality must be strict, with the ability to change poor contractors if necessary, all in the name of the progress and quality of the project."

In the field of hydropower energy, Kosy Group continued to break ground on two hydropower projects in 2021, Muong Tung (Dien Bien) with a capacity of 32 MW and Pa Vay Su (Lai Chau) with a capacity of 50.5 MW, for a total investment of VND 2,800 billion.
In the field of real estate, in 2021, Kosy Group broke ground on three large-scale projects in the provinces: Kosy Lita Ha Nam Urban Area (scale of 22 hectares, total investment of over VND 500 billion), Kosy Ninh Binh Urban Area (scale of 41.84 hectares, total investment of VND 1,220 billion) and Kosy Riverside Lao Cai Urban Area (area of 42 hectares, total investment of VND 1,100 billion). In 2021, the Group has completed the legal work on a number of projects, laying the groundwork for the explosive deployment of a series of large-scale projects in a number of provinces and cities across the country in 2022.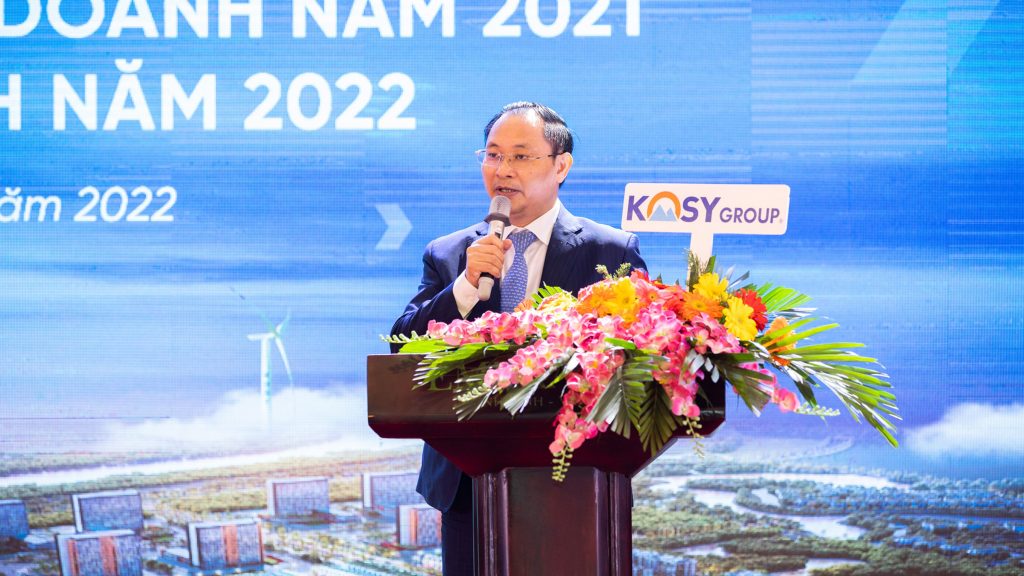 Mr. Nguyen Viet Thung – Deputy General Director in charge of Project Development said: "The year 2021 marks a watershed moment in Kosy Group's development of new projects in both the real estate and renewable energy sectors, with a number of projects that have been approved by the province and are currently undergoing legal process. Kosy Group has affirmed its brand name and established an effect in numerous areas around the country after 13 years of formation and development."
The financial work has also done well in the last year, generating resources for the building of old projects and investing in a number of new ones. Kosy Group has earned the trust of partner agencies and credit institutions. The increase of charter capital of Kosy Joint Stock Company – a member of Kosy Group to VND 2,164.8 billion, with a market capitalization of around VND 7,000 billion helps ensure capital for Kosy Group to confidently deploy projects potential in 2022.
The Group's human resources and working environment have improved in 2021 when the Group appointed many senior personnel positions, built many new divisions to promote specialty, strengthened organizational structure, and guaranteed remuneration regimes despite problems and epidemics.
The tradition of "Kosy people for the community" is still respected with over 40 billion in funding to help communities and local governments survive the pandemic and regain control of their lives.
2022 – "Going out to sea"
Chairman Nguyen Viet Cuong, speaking at the conference, stated that by 2022, the epidemic will be under control, the economy will have gained momentum as a result of the government's economic stimulus packages, and the people's confidence, providing an opportunity for the Kosy Group to grow in the real estate sector.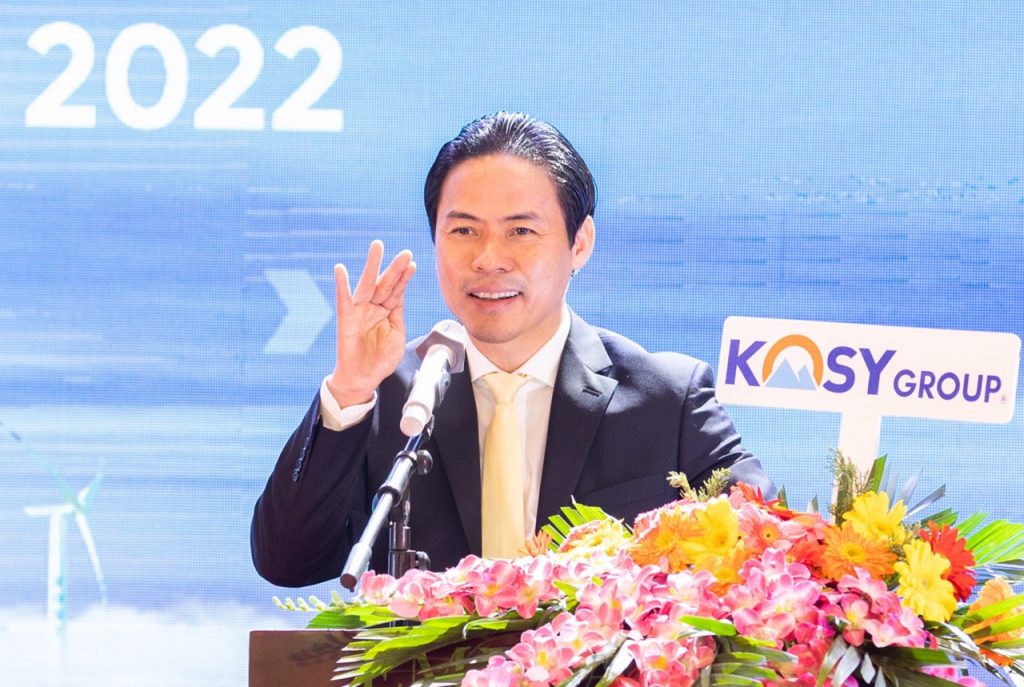 In 2022, a number of potential Group projects, including Kosy Lita Ha Nam, Kosy Riverside Lao Cai, Kosy Ninh Binh, Kosy Bac Lieu urban area, and Kosy Quang Binh urban area, will be put up for sale. These are all well-planned developments in good locations that are projected to boost the domestic real estate market. In 2022, Kosy Group will concentrate on completing legal work, obtaining site permission, and launching a number of large-scale real estate projects in various regions.
After joining to the national power grid, renewable energy projects such as the Kosy Bac Lieu Wind Power Plant phase 1 and the Nam Pac Hydropower Plant will focus on well-implementing the operation, assuring safety and effectiveness.
In addition, the Group is simultaneously developing a number of new real estate and renewable energy projects across a number of provinces in the North, Central, and South, as well as the Central Highlands.
In response to the Group's growth, it is predicted that in 2022 – 2023, Kosy Group will recruit hundreds of new employees, bolstering the Group's apparatus, processes, and systems. To safeguard the rule of law and work efficiency, legal actions and internal controls will continue to be prioritized.
With a goal to 2025 and a vision to 2030, the Group will deploy large-scale real estate projects (commercial real estate, industrial real estate, office…), deploy and complete significant renewable energy projects (offshore wind power, stored energy…).
Chairman Nguyen Viet Cuong affirmed: "Chairman Nguyen Viet Cuong affirmed: "The year 2022 is a very important year for the group. We are determined to achieve our goals for 2022. That is the foundation for the group to have sufficient capacity and confidence to deploy very significant projects as planned in the next years."
Honoring outstanding individuals and groups in 2021
At the Conference to summarize business operations in 2021 and establish goals for 2022, Kosy Group solemnly honors outstanding individuals and groups from the previous year in recognition of their contributions to the Group's successes in 2021.
Kosy Group's 28 outstanding employees in 2021 were recognized for completing assigned duties on time, with high quality assurance, and a strong sense of responsibility.
The 10 outstanding managers in 2021 have contributed to the overall performance of the Group with their good expertise and the ability to manage the department to complete the task according to the approved KPIs.
07 outstanding collectives were recognized as units that excelled in their job, including: Procedures and Customer Care Department; Gia Sang PMU; Hydropower Project Management Department 1; Finance – Securities – Accounting Division; Internal Control Board; Communication Department and Kosy Bac Lieu Wind Power Project Management Unit.
In order to assure maximum efficiency in production and business activities, exceptional leaders with enough heart, vision, and talent are always required, in addition to having a good team of people. 04 typical leaders were honored in the program for their great contributions to the successes of Kosy Group in 2021: Mr. Nguyen Duc Diep – Standing Deputy General Director; Mr. Do Quoc Viet – Deputy General Director in charge of Engineering and Project Management; Ms. Phung Thi Hai Van – Deputy General Director in charge of Sales and Mr. Luong Hong Phong – Deputy General Director in charge of Wind and solar power projects.
The 2021 Review and 2022 Target Plan Conference finished well, with joy and pride in the accomplishments and efforts of 2021, as well as resolve and agreement on the goals for 2022. All employees believe that, under Captain Nguyen Viet Cuong's guidance, the Kosy Group ship will undoubtedly achieve numerous victories in 2022 and sail far over the sea, setting many new landmarks.