Kosy Group sponsor cataract surgery in Lam Thao, Phu Tho Province

With financial support from Kosy Group and a number of Lam Thao native volunteers, a surgical team on mobile cars together with a group of experienced ophthalmologists and surgeons from the National Institute of Ophthalmology departed from Hanoi starting on 22 July 2017. This is one of the special trips to pay tribute to families with meritorious services to the revolution, policy beneficiaries in the 70th anniversary of of war invalids' and martyrs' day as well as to bring the most advanced scientific and technical applications of ophthalmology to remote areas.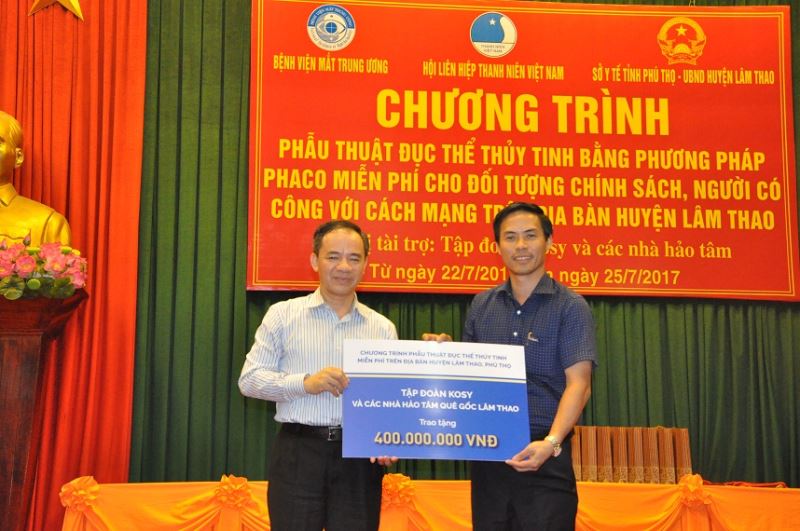 Kosy Group is an enterprise operating in real estate, construction and law, in which real estate is identified as the key operation field with the successful implementation and development of large urban areas in many provinces nationwide such as Lao Cai, Sapa, Thai Nguyen, Song Cong, Bac Giang, Vinh, etc.
Established in 2008, along with the improvement of production and business objectives, Kosy Group always pays attention to and spends a part of its budget to regularly carry out volunteer activities, demonstrating the social responsibility of the enterprise and contributing to the reduction of difficulties and burdens for people in need of the community support. And the sponsorship of cataract surgery for policy beneficiaries in Lam Thao, Phu Tho is a meaningful event in the policy and spirit of the Group's Board of Directors and employees.
Mr. Nguyen Viet Cuong, Chairman of the Board of Directors, General Director of Kosy Group stated: "In addition to business tasks, social security programs are an important part of the activities of the Group. Our goal is to make Kosy Group grow strongly, thereby creating more opportunities to join and share with less fortunate people in life…".
Within the framework of the program, more than 800 patients with ocular morbidity have been examined and screened, consulted and indicated appropriate treatment by excellent doctors of the National Institute of Ophthalmology prior to surgical indication. It is expected that by the end of 25 July 2017, the total number of successful surgical operations in the program will be about 250. During the first two days of implementation, nearly 400 patients were examined and the surgical team performed 100% successful surgery for over 100 patients with cataract, bringing light and vision to patients under preferential treatment policy in the district.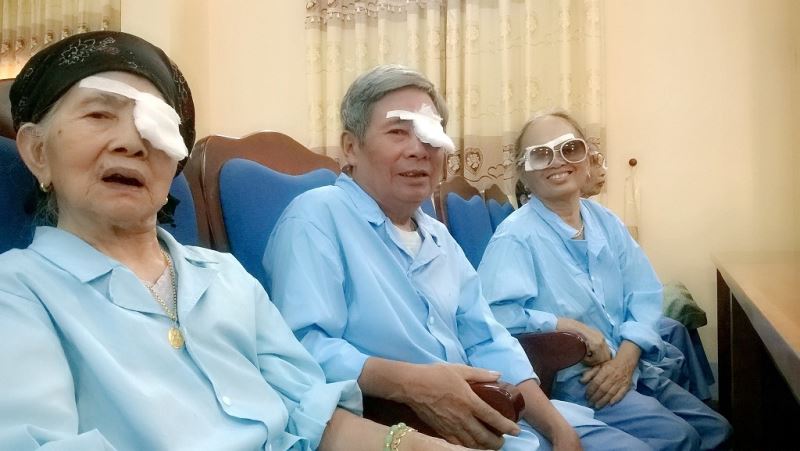 Three of patients who receive free surgery
Kosy Group's officers and employees directly visited and encouraged patients who receive free surgery under the program, among them are Mr. Nguyen Van Tai (72 years old) – Kinh Ke commune, Mrs. Nguyen Thi Thinh (80 years old – Xuan Huy Commune, Mrs. Bui Thi Lich (86 years old) – Kinh Ke commune, they cannot hide their joy and appreciation when receiving timely support from the program. "Very bright, very clear! Now I can sit here and read every word on the stage without wearing glasses…"
The joy of the people, sometimes just so simple like that!
Congratulations on the success of the program, we – Kosy Group tell ourselves that we will continue our journey of volunteering, find many other lands, be with local people and wish to share more difficulties in life!