Nguyen Viet Cuong, Chairman of Kosy Group, donated VND 8 billion to build a pagoda in Phu Tho.

On March 23, 2022, the Buddhist Sangha of Phu Tho province held the groundbreaking ceremony for the construction of An Ninh Thuong pagoda. It is known that the hundred-year-old building was embellished and rebuilt with the help of Mr. Nguyen Viet Cuong's family and other benefactors.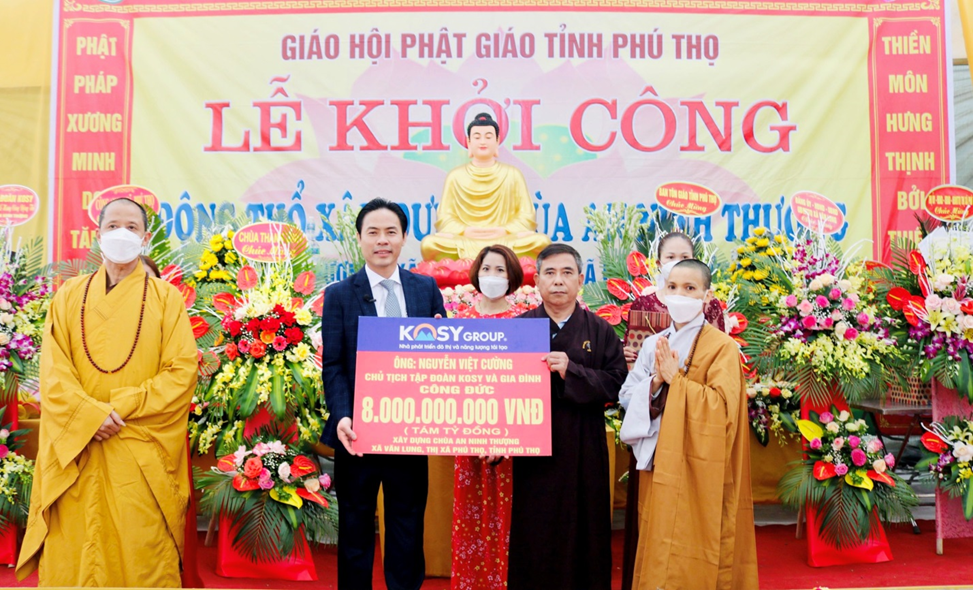 During the reign of King Minh Mang, An Ninh Thuong Pagoda in Van Lung Commune was built for the first time in 1820. Due to the influence of the resistance wars against the French and American colonialists, the pagoda was severely damaged. In 1989, the people rebuilt An Ninh Thuong pagoda with bricks, roof frames made of bamboo and wood, roofed with Song Cau tiles, and included three compartments of Three Refuges and harem with a total area of 37.5 m2. The pagoda has been severely deteriorated after more than 20 years of use due to temporary construction. The structure of the roof, truss, and purlin was damaged by termites, most of which were rotten and could no longer bear the load; rafter, sheets cracked, completely rotted, severely damaged, and in danger of collapsing; manual roofs leaked, and so on, causing property damage and unsafety. At the same time, the area of the pagoda is small and there is insufficient space for people and Buddhists to worship.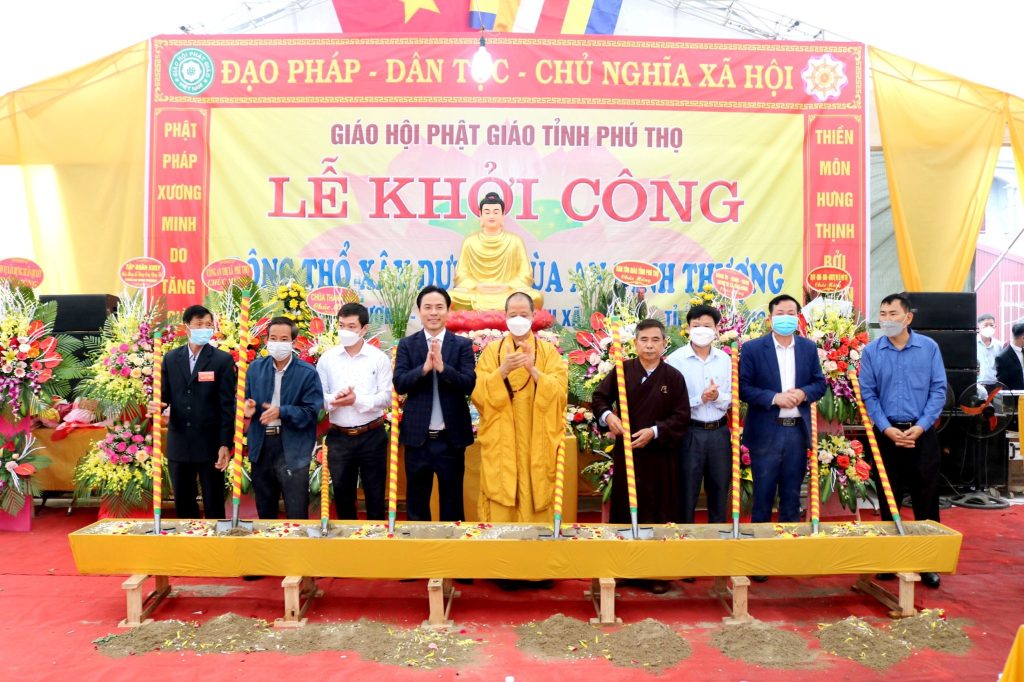 According to the reality of the work and the aspirations of the people, the Van Lung commune government, in collaboration with the An Ninh Thuong Pagoda's House Committee, has asked businesses, benefactors, and local residents to contribute to the pagoda construction fund. The overall cost of construction and completion of the pagoda is estimated to be around VND 9 billion. In which, Mr. Nguyen Viet Cuong – Chairman of Kosy Group and his family donated an amount of VND 8 billion, while individuals and other benefactors contributed VND 1 billion.
According to the design, the new pagoda is solidly built with permanent reinforced concrete and has a total construction area of more than 3000 m2, specifically construction items such as the 2-level pagoda gate (Three-door temple gate) and pagoda (Three Refuges), Quan Am floor, Mother's house, Ancestral house, gilded floor, kitchen, yard, garden, and wall. The pagoda's construction officially began on March 23, 2022, and it will be completed in time for the Lunar New Year of the Rabbit in 2023.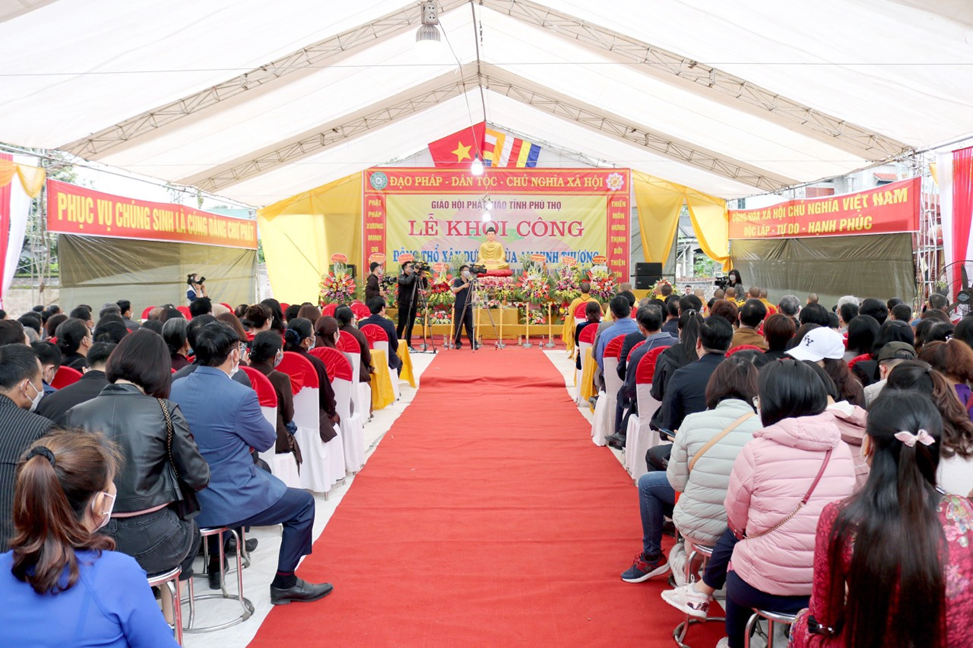 At the Groundbreaking Ceremony of An Ninh Thuong Pagoda, Mr. Nguyen Viet Cuong, Chairman of Kosy Group shared: "Since knowing the Dhamma, and especially after three years of diligently studying and spending a lot of time studying and researching the Dhamma, I have discovered that my perception, understanding, and perspective have changed significantly compared to before. These changes have had a significant impact on my life, allowing me to be more successful, happier, and healthier, and I am growing increasingly regretful that my fate did not allow me to discover Dhamma sooner. My family and I are honored to be able to join the authorities and people of Van Lung commune in contributing to the construction of the An Ninh Thuong pagoda. I believe that after its inauguration, the pagoda will be a spacious, clean, and beautiful cultural and religious space, enriching the spiritual lives of people in the region as well as Buddhists throughout the country."
On behalf of the pagoda, the head – superior monk Thich Minh Nghiem acknowledged and appreciated the contribution of the Kosy Group Chairman's family, and awarded the "Record of Merit" to the Buddhists and benefactors. Buddhists and benefactors were also invited to the spiritual ceremony and were served a meal at the pagoda.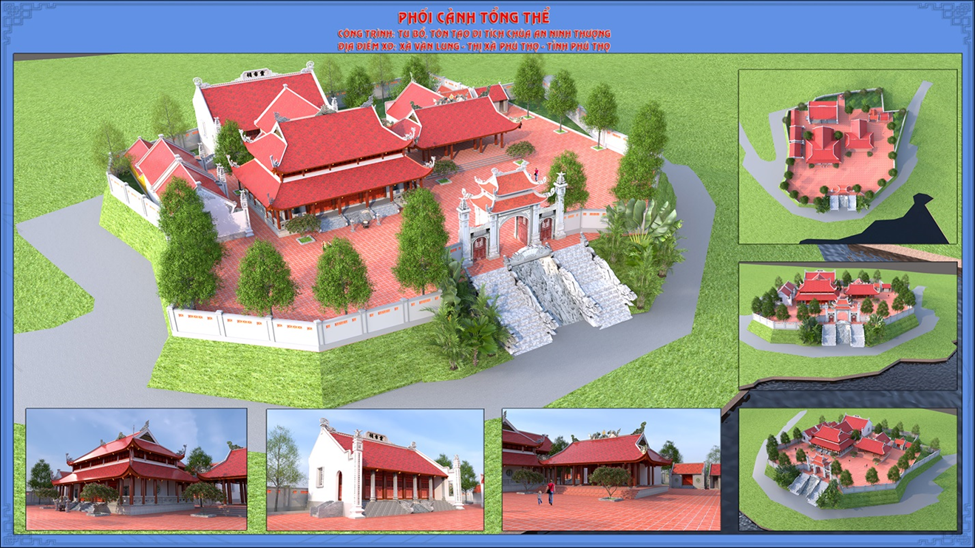 Kosy Group, founded in 2008, has more than 20 member units that operate in a variety of industries, with real estate and renewable energy being two of the most important. Kosy Joint Stock Company – a member of Kosy Group, is the investor of many urban areas, listed on HOSE. Furthermore, Kosy Group member units are investors in a variety of real estate projects, hydroelectricity, wind power, solar power, and so on, with a total investment of thousands of billions of dong.
Overcoming the disadvantages of the pandemic, Kosy Group made a name for itself in the market in 2021 when it launched two energy projects, Kosy Bac Lieu Wind Power Project – 40.5 MW and Nam Pac Hydropower Project – 34 MW, which were completed, officially operated, and connected to the national grid. In addition, 02 hydropower projects Muong Tung (Dien Bien) and Pa Vay Su (Lai Chau) with a total capacity of 82.5 MW, total investment of VND 2,800 billion are being implemented, constructed and completed power generation before December 31, 2023. In the field of real estate, many potential projects of Kosy Group are built and opened for sale in 2022 such as: Kosy Lita Ha Nam, Kosy Riverside Lao Cai, Kosy Ninh Binh, Kosy Bac Lieu urban area, Kosy Quang Binh urban area… Also in this year, Kosy Group continued to kick off a number of real estate projects in the provinces of Ha Tinh, Bac Lieu, Thai Nguyen, Phu Tho, Bac Giang… Furthermore, the Group has concurrently implemented many new real estate and renewable energy projects in many North-Central-South provinces, with construction set to begin in the coming years.