Review meetings and exchanges of 2009 festival

In two days, 08/09-02-2010, at room KOSY Company was held last year review meeting of the Company with full participation of the leadership, cadres and workers and management at the office.
The meeting outlined the accomplishments achieved in 2009, analyzing problems, facilitate and set out targets and strategies in 2010. KOSY put up a development level.
Conclusion of the meeting, on the evening of 09-02-2010 JSC KOSY again converge to gatecrash a party big bold culture of the whole company.
After a year of hard work, party, festival last year was a meaningful gift that company to give all employees. It was an appropriate time to sum up the company operations as well as the achievements in the past year, to help employees see the need to overcome the drawbacks for long-term development of the Company . Besides, the best face of the company, its employees a dynamic, diligent in the year were honored during this festival. This is also an opportunity for all employees is refreshing after playing time hard working, have the opportunity to help people closer together to understand each other that will work.
Party last festival in 2009 KOSY JSC held in an atmosphere of fun and excitement at the Potomac Boat – West Lake, with the presence of more than 100 people crowded enough of the leadership team and all staff and invited guests were accompanied KOSY during development.
Opening program Chairman Cuong Nguyen Vietnam highlights the achievements and thank the objective, unit leaders and all staff in the united company, its utmost to build a KOSY stronger.
in all aspects. He also stressed on measures to implement the objectives set out in the context of the difficult economy of the country, implementation of the assessment of human resources effective, stable life staff employees and build a unity in the whole company. Contents of the speech:
Speech by Chairman KOSY
party companies in late 2009
Dear guests!
Dear officers and employees of the Company Kosy!
Dear brothers and sisters and all!
2009 was a year full of difficulties, challenges, crises world economic impact to our Vietnam, but with specific business at this stage, Kosy not affected, and even the Kosy we have a lot in achieving success on all three main business areas:
(I) applies to education and training, in 2009 Kosy collaboration with a number of colleges, the University of organizational training and development of human resources for the local total of 3,000 pupils and students. This is always a work party, the State concerned, encouraging, and Kosy also have a lot of support and create favorable conditions from the government in many provinces. Besides, in 2009 we established the School of Finance in Hanoi, the Kosy and eventually will develop into a professional training college sector blocks of economic prestige and quality.
(Ii) construction sector, despite entering a new industry in 2009 not long but Kosy did get some valuable contracts, there are contracts to a few dozen billion, now we're opening Chien, construction organization is very good, always achieving the progress and quality setting. Contribute actively to national construction and development of capital and the country.
(Iii) the mineral sector, as a business strategy, currently has six mines Kosy in some provinces with many different types of minerals, including mines of great value, to hundreds of billions co. We also have joint ventures with some foreign partners have good capabilities in finance and experience.
To achieve the above results, in addition to the work efforts of managers and nearly 100 officials and employees, Kosy has received much valuable help busy friends, relatives and from partner, and today there are people you have here. On behalf of the company, I would like to thank the invaluable help it.
In spite of these achievements, we have many shortcomings and mistakes. That has been raised in quon "objectives, strategies and development plans in 2021 to Kosy Company." To overcome the shortcomings, we must unite, and try harder each individual must have the knowledge, the desire to build a strong Kosy.
Distinguished guests and friends!
Right from the beginning of its establishment, the company Kosy had a great mission, a specific objective, clear challenge ahead. Kosy had built for themselves the appropriate strategy, the plan feasible. In 2009 was over, the important tasks ahead is to complete objectives in 2010. To achieve that, we have conducted excellent planning, creative application and make timely adjustments to the plan closely with the transformation of the business environment.
Kosy determination to reach a global corporation, interdisciplinary activities, the desire to satisfy shareholders and partners. It is my desire and also the desire of the leadership, as well as officials and staff Kosy.
You and wish you a whole new year healthy, happy and successful in many fields, and here we all have a party really fun festival, plenty of sense. "
In 2010, with the challenges, opportunities and market the right direction, the company strives to maintain and carry out tasks and plans put forward, bringing the brand to new heights KOSY.
In the boisterous music, President Nguyen Viet Cuong increase of glass, sending greetings to all company employees and guests present at a New Year party Khang – Prosperity – Full of happiness.
The party ended in joy, cheer for all staff. Everyone under the "common house KOSY" are determined to strive efforts in 2010 to fulfill personal goals and objectives of the company.
Some pictures at the meeting last year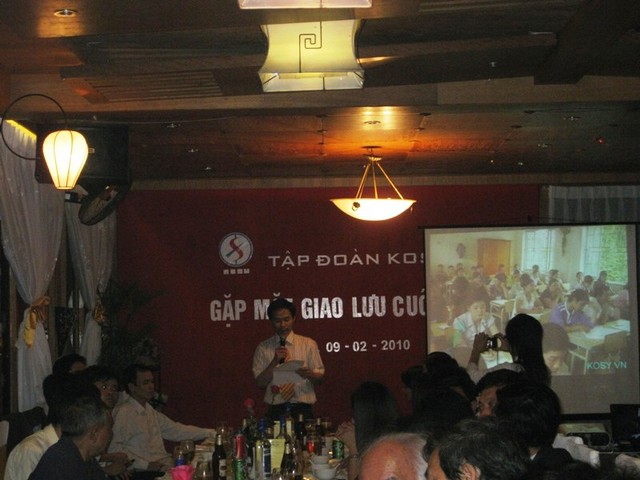 Chairman opening speech festival