The Japanese Business Delegation Visited and Worked at KOSY Joint Stock Company

While they were staying in Vietnam, the Japanese business delegation had several meetings with Mr. Nguyen Viet Cuong – Chairman of BOM/CEO of KOSY Joint Stock Company.
During the meeting, representatives of the two parties discussed issues concerning cooperation in the program of accepting Vietnamese workers and trainees to work in Japan and investment in construction of urban areas developed by Kosy Joint Stock Company.
Japanese enterprises offered policies to support investment for the projects of KOSY Joint Stock Company and they also emphasized the potential to invest in Vietnam in many different fields in the current period. Japanese business delegations were confident in the ability of KOSY Joint Stock Company and desired to jointly promote cooperation to develop together in the future.
Japanese enterprises appreciate Vietnam laborers by their virtue of hard-work, diligence, intelligence, and agility. They also support KOSY Joint Stock Company in accepting workers from Vietnam to work in Japan as well as training and managing trainees.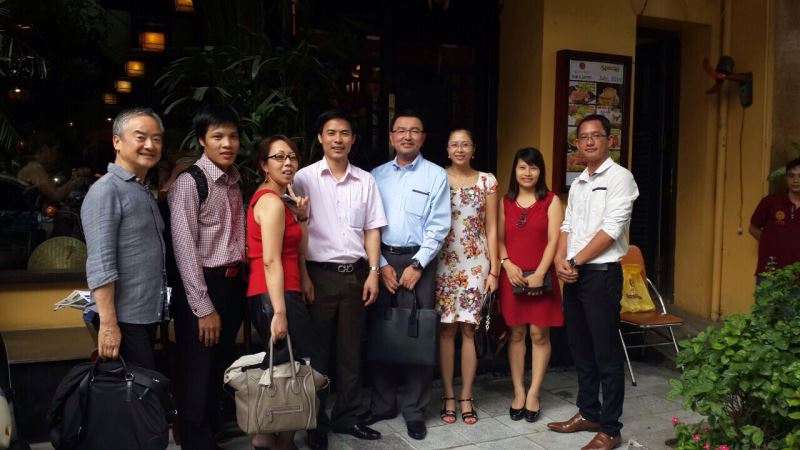 The Japanese business delegation took souvenir photograph with some leaders and employees of KOSY Joint Stock Company
The Company appreciates business potentials and experiences of Japanese enterprises and looks forward to enhancing the business delegation to support the Company's key business lines for development. Likewise, Japanese enterprises investing on the projects of the company will play an important role in the transfer of technology and management experience.
Both parties believed that investment cooperation will bring practical results and promote business activities of enterprises for a stable and sustainable development.
In the evening of the 31st of July, 2014, the Japanese business delegation left Hanoi. Indeed, their visiting and working trip with Kosy Joint Stock Company was successful.