Water source seeker

In construction sectors, hydropower is a very hard, difficult and dangerous profession, but it brings joy, happiness, brings light everywhere and is very proud.
Kosy Group has been implementing many hydropower projects to get nearly 200 MW capacity, corresponding to nearly 20 different large and small projects approved for additional planning, spreading throughout the Northwest provinces. This is not only the general success of the Group but also is considered as a remarkable and outstanding achievement of the team on searching and developing hydropower projects after more than a year of hard work.
Due to the characteristics of hydropower projects, the most important stage is to find water sources, develop plans, provide construction solutions, and decide on project efficiency. Behind those successes, it is necessary to mention the contributions of a number of departments and individuals, Kosy has devoted a lot of enthusiasm to the project.
I want to share with everyone about such people, with my witness and feelings, so that we can understand them better, sympathize with the hardships of people associated with the mountains and forests. In particular, I would like to thank all of them.
They are simple people, members of a new hydropower project development team, drivers who know every bend on the road… Most of their time is away from home, in projects or on winding roads, under deep streams or on high mountains. They went for a whole week, sometimes going early in the morning so that they could get out of the forest when it was dark, sometimes stay in the village because the flood water came back suddenly.
Trips are sometimes unpredictable. Sometimes, just one day after returning home after a month away from home, not having time to fulfill the promises made to his wife and children, and the next day, due to work, he will carry his backpack and go on a mission. The luggage on the shoulder for each trip is also very simple, just a few clothes, a few water bottles, a few handful of rice, a handful of sticky rice… That's all because there is not always a restaurant to eat, a house to rest, wherever convenient, stay there, eat there.
At rest, they think about their own job, some think about family, their wife who are struggling to raise a small child, some worry that no one will help your elderly mother when she is sick…, sometimes they think if they should continue, sometimes they are depressed, but then they also encourage each other to overcome, look at their family and try, because the assigned task must be completed, because he has followed the career of "finding the water source" very hard but also proud of this.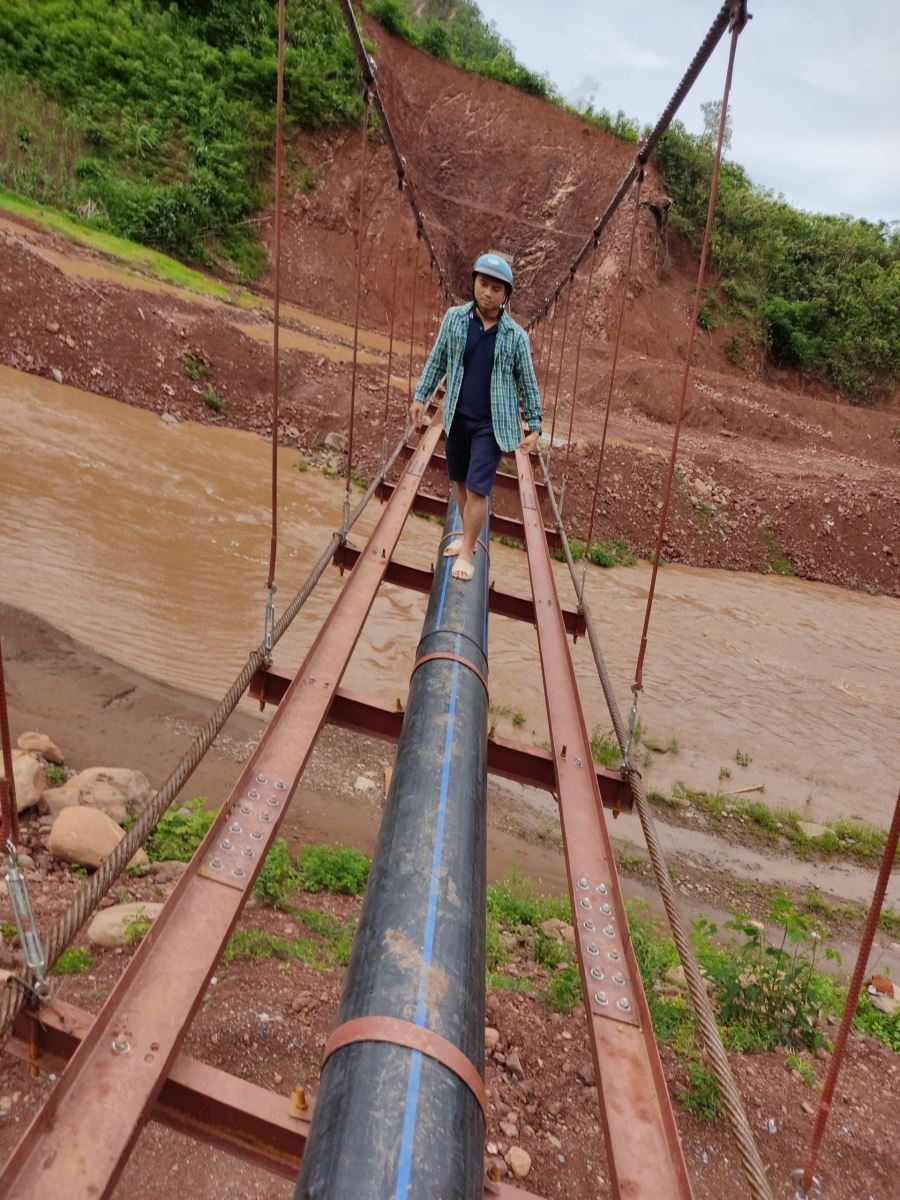 Then there were trips where they often joked that only when they got home that they knew they were alive and felt safe. I'm not exaggerating, you'll know when you know, the way to the Northwest is dangerous. Sometimes we pass through steep cliffs, sometimes we pass through the misty passes that drivers often say that we can not know what is ahead, only white clouds, sometimes only the sound of passing cars, then there were times when the group had to stop and wait in the night for an hour due to the mountain avalanche, sometimes it took an hour for a few kilometers because of the slippery rain road.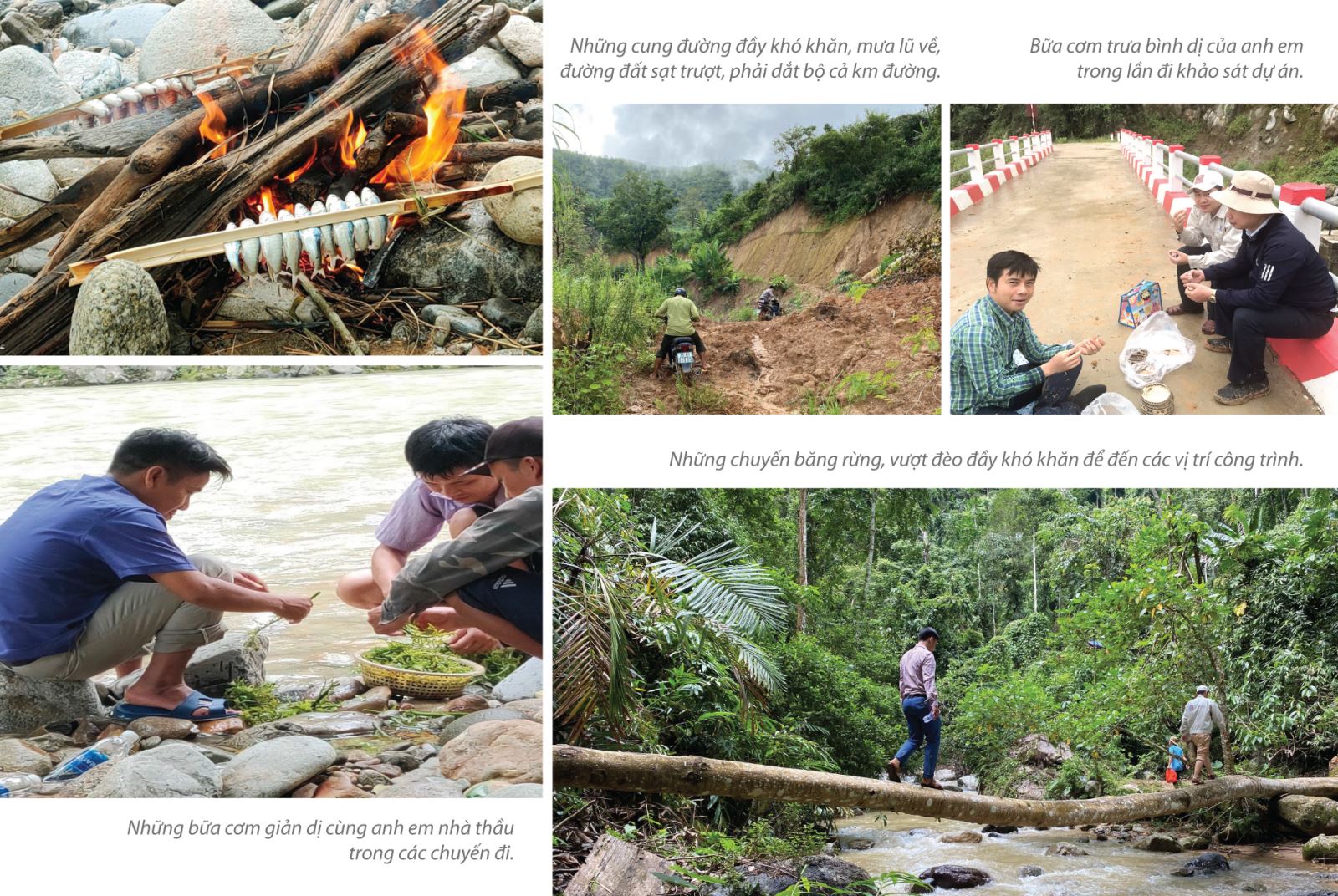 They participate in the project so hard, sometimes bored, but most of it is laughter because of joy and passion for work. I had the opportunity to talk with their wives, some said they didn't want to let their husbands go, others said they were very worried and just wanted their husbands to return home safely after their trips. Then I also heard the confidants, from the husband and wife quarrel because they do not have time to care about the family, to the children, the events of the wife and the husband's family, children must be sent to the wife's family or have to hire a babysitter. But then all passed, difficulties were overcome, because the wife sympathizes with the hard work, trying to take care of the family on their behalf. The women understand that their husbands are making a lot of sacrifices, which not everyone can do, the sacrifices for their work are worth being proud of.
Having witnessed and accompanied them in a number of hydroelectric projects, I am very impressed, partly because I see them working so hard but still completing the assigned work well, partly because it is true that you must have enthusiasm and passion for the job to do it. As Mr. Tuan – Vice Chairman of Wind Power once said "Sometimes doing it for passion, not needing anything, tomorrow, driving Grab is also fun". Obviously, without passion, it is difficult to do. Once again, I would like to thank the members of the hydropower project development team such as Mr. Dang, Mr. Tan… or the crew members such as Mr. Nghia, Mr. Nghi, Mr. Dung, who are looking for water sources.